The Barn Swallows of Sequim
OK, it doesn't have the same ring as the Barn Swallows of Capistrano, but they're our swallows.
A few years ago a pair of Barn Swallows attempted to build a nest over the door way to our office. They weren't being very successful, so we tried to help by putting up a small platform above the door. Instead of graciously accepting our generosity, they left. But, last year a pair built a nest on the platform. They had 2 chicks, but unfortunately one of them fell out of the nest. I put him back in the nest and the other immediately jumped out. Neither of the chicks would stay in the nest, and they were too young to fledge.
This year, the Barn Swallows returned. At first, we counted 2 chicks again. Then three. Then four. Omigod. How can 4 chicks fit in such a little nest when 2 didn't fit last year. Well, four won't fit, but when and where #4 went we don't know. Number 3 fell out and was easily rescued. But a few days later, #3 was on the ground and dead. Then #2 disappeared. Well, there wasn't room for two anyway.
Here are some photos of the adults feeding 3 chicks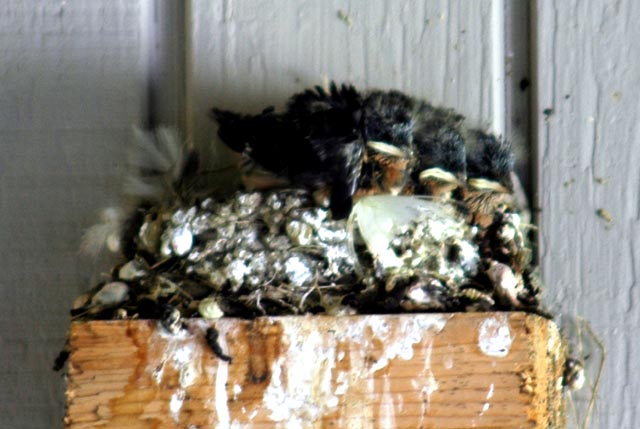 These little guys might look like they're asleep on the job, but the instant one of the adults approaches they're all mouth.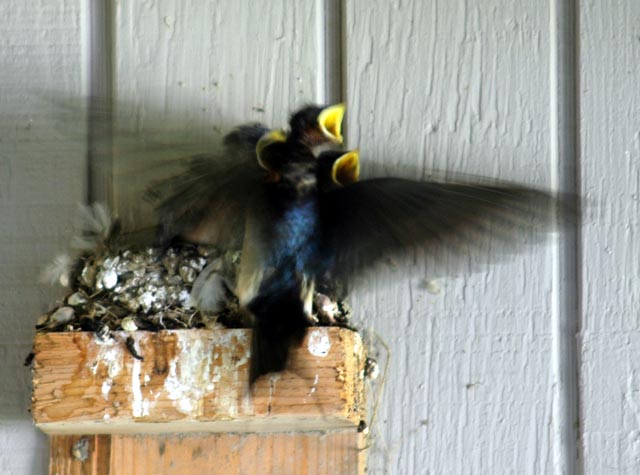 Most of the feeding is done on the wing and takes just a few seconds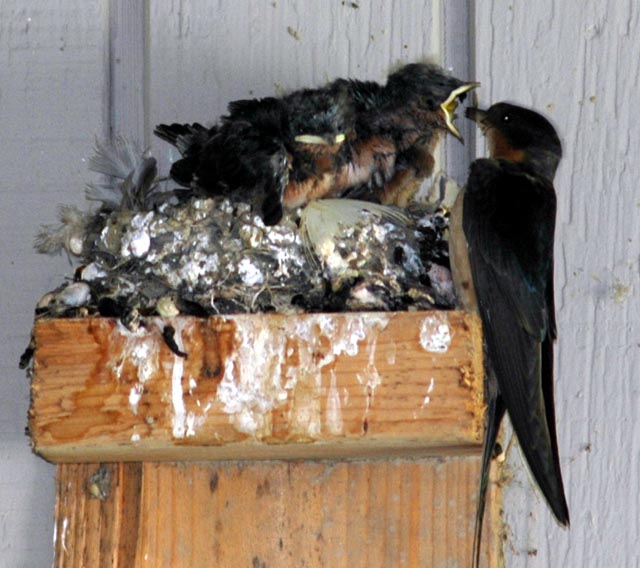 Every once in a while, one of the adults actually lands and gives us a chance to see their beautiful shape.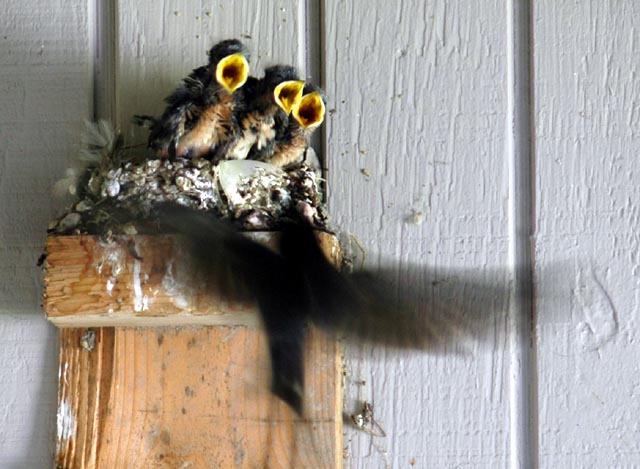 Like I said, they might look like they were sleeping, but they pop up like 3 little Jack in the Boxes for a bug from mom.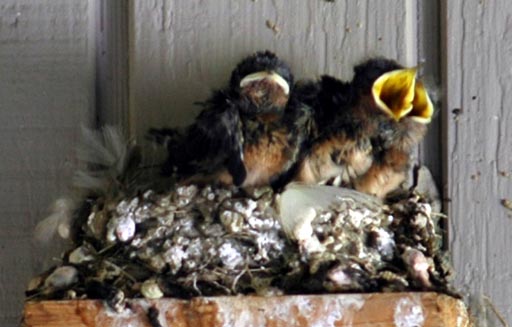 Guess which one got the bug that time?
The last chick started looking like a Barn Swallow a week ago.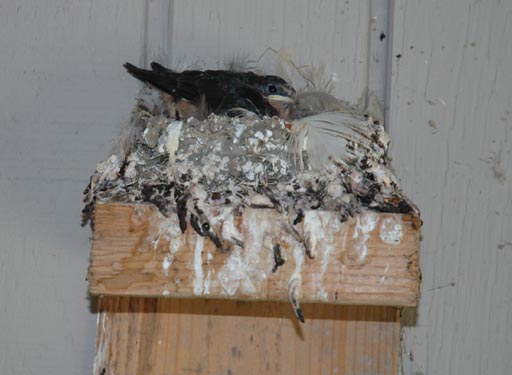 He fledged. After much encouragement from mom & dad, he flew from his nest to an eave just 9 feet away. After more encouragement from mom & dad, he took off. CJ was depressed just like a mother when one of her children moves out. But, he came back in the evening and spent the night in his nest. July 30, 2008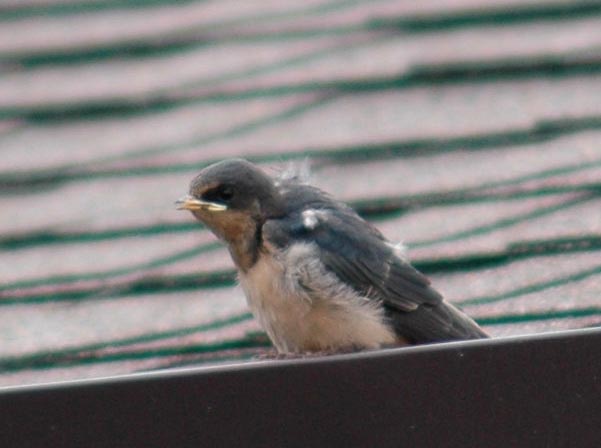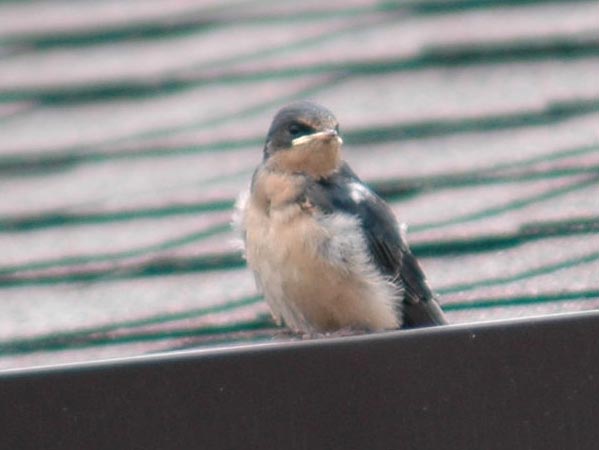 I got a chance to watch mom and dad feed the half-fledged chick today. He sad on the eave over his nest, while mom and dad brought him lunch. He'd get all excited when he saw one of them coming and flutter his wings, then he'd open wide for a tasty bug. The speed of the process is amazing. I had the camera on full auto taking 2 frames/second. In no more than 2 seconds one of the adults would be on final approach, feed the chick while in a brief hover and then take off. Below are two 4-image sequences.
First sequence: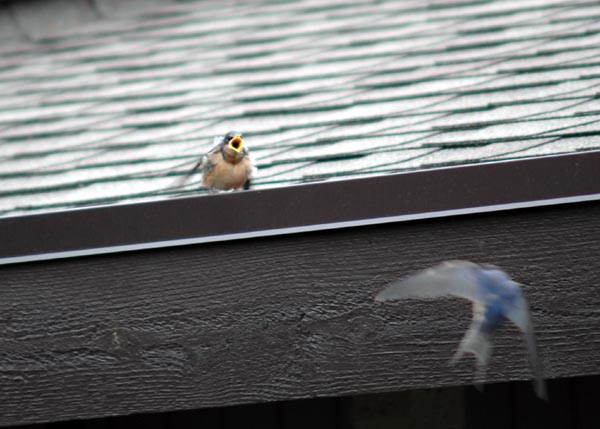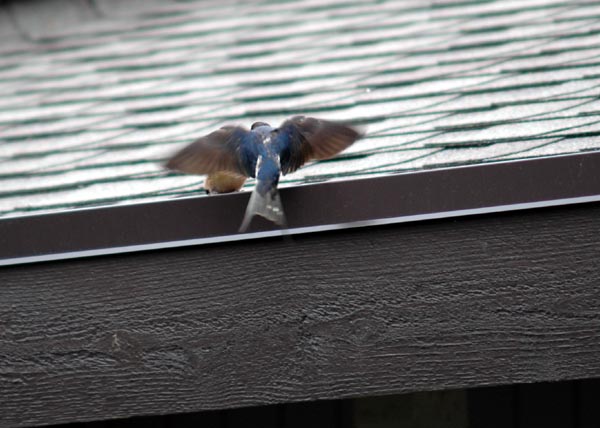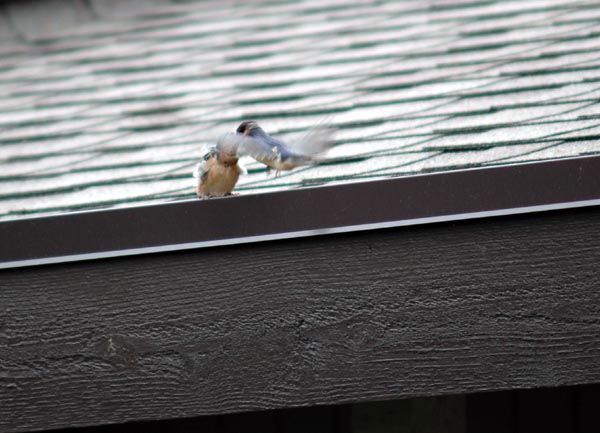 Second sequence: