Columbia 7.6 "Chasing Rainbows"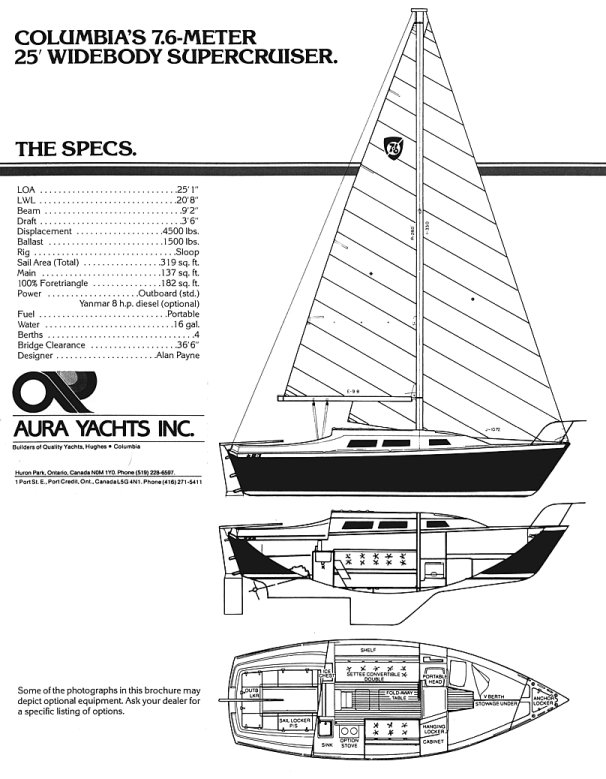 I bought my Columbia 7.6 in the spring of 1982. She was an early model built by Whittaker Corporation. It's interesting looking back because she was the boat my former wife wanted to keep up with our sailboat cruising friends. I preferred a Ranger 26, but in the interest of marital harmony, I bought the Columbia. Well, as you might surmise from the "former wife" comment, that didn't work out according to plan. Oh well, she was a nice pocket cruiser. The images below are of a sister ship.

The Columbia 7.6 was designed by an Australian America's Cup designer, Alan Payne. It was one of a series of yachts in the new cruiser line of boats, deemed the "wide body super cruisers", built by Columbia. Built by:
Whittaker Corporation, 1976-78

Hughes Boat Works, 1979-1982, 1986-?

Aura Yachts, 1982-86
This is what Alan Payne says about the 7.6:
The Columbia 7.6 does not have precisely the same hull form as the larger Columbia Supercruisers, but it makes use of the same design research. This smaller version has been modified at the stern to allow the installation of an outboard motor, and at the bow the overhang has been reduced to allow a longer waterline. The change in the bow is appropriate for this size of boat, which does not need the superb open-sea capability of the larger cruisers.

"As with the other Supercruisers, the design was planned to suit the real and practical needs of America's cruising families. Consequently, the balance of qualities in the 7.6 retains the stability and controllability needed to give confidence and security in strong winds and rough seas, while the lines have been adjusted to suit smooth waters and light breezes.

"In the design, we have used wide beam and a heavy, well-placed chunk of ballast, which assures the stability. The bow and stern shapes have been carefully studied so as to produce a boat that doesn't fight the helmsman with a strong steering bias when heeled, and this quality is the principal factor in the boat's obedience.

"Under full sail, the boat is lively in a light breeze, but she is also quite happy with the smaller jib in a freshening breeze, or in a real gale with sail reduced to the reefed mainsail only.

"A special characteristic of the boat is that the skeg hull form, adopted to contribute to good sailing performance, also provides an accessible location for an inboard engine, where it does not intrude into the cabin."