Leg # 11
Glenn & Richardson Highways: Anchorage to Tok
August 26th to August 29th
| | | | |
| --- | --- | --- | --- |
| Day # | Date | Description | Link |
| 82 | August 27th | Glenn Highway: Anchorage to Little Nelchina River SRA | |
| 83 | August 28th | Glenn Highway to Richardson Highway: Porcupine Creek SRA | |
| 84 | August 29th | Porcupine Creek SRA | |
August 27th - Anchorage to Little Nelchina River SRA [top of page]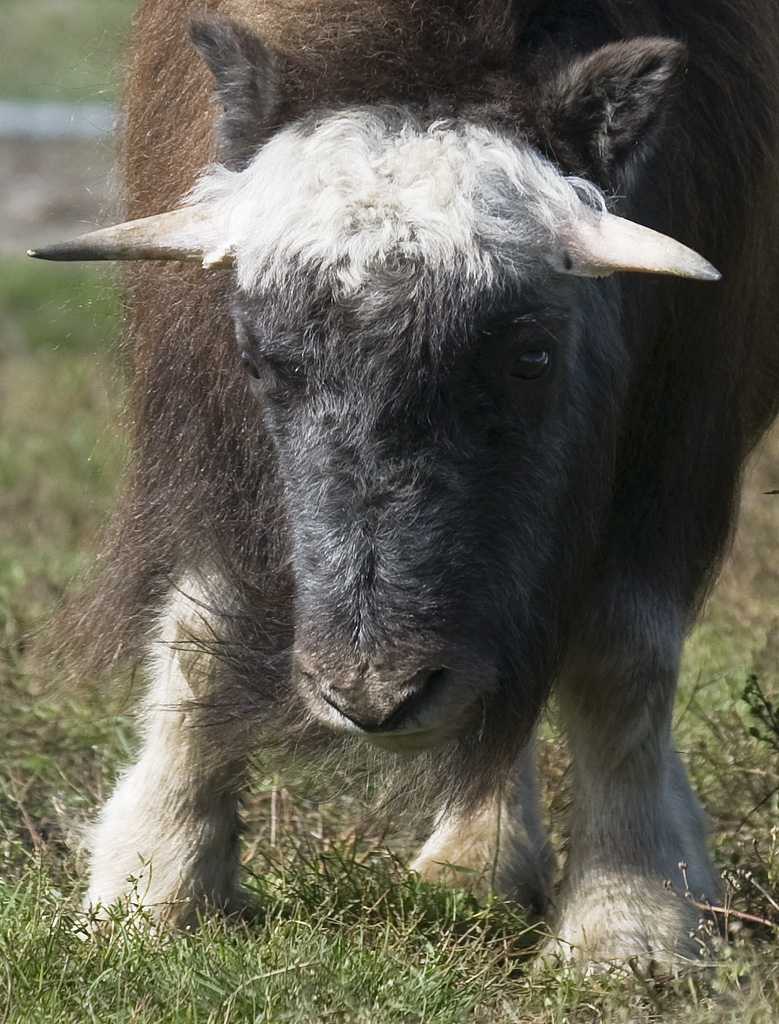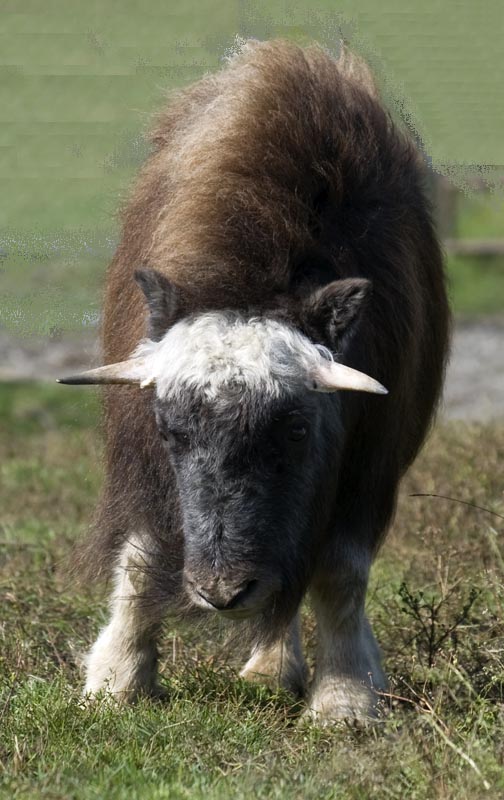 A Muskox yearling on the left and an adult on the right & below at the Muskox Farm in Palmer, Alaska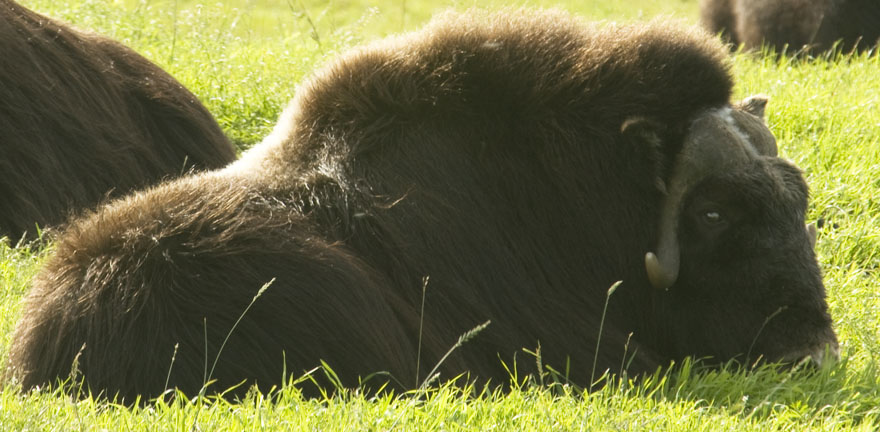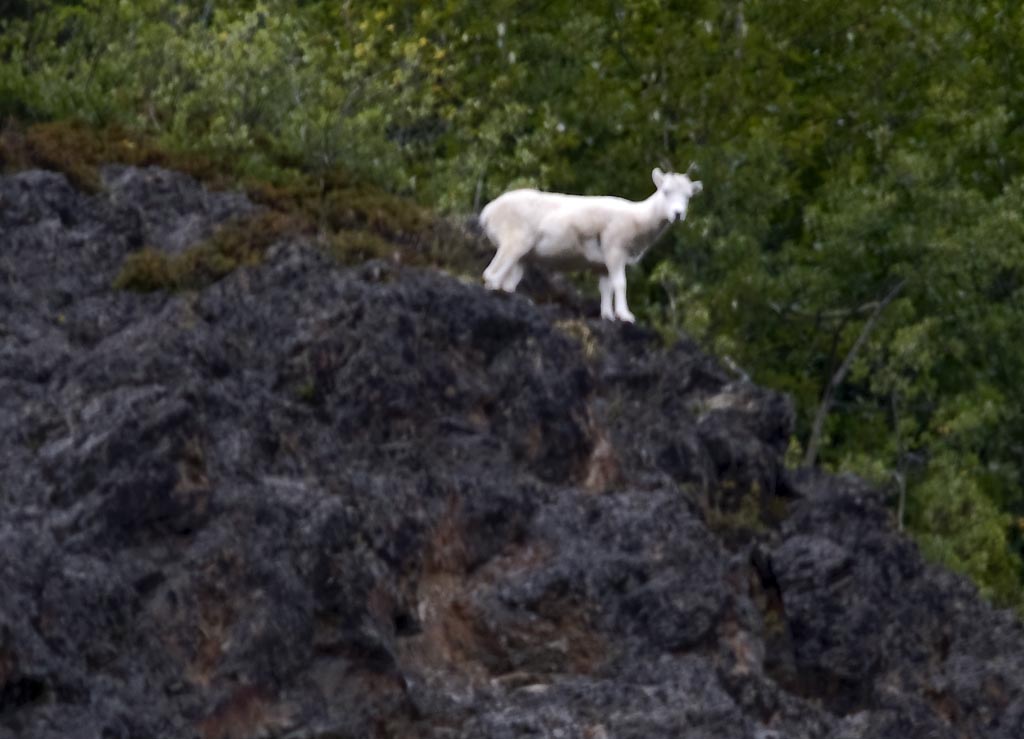 Dall Sheep on the rocky cliff above the highway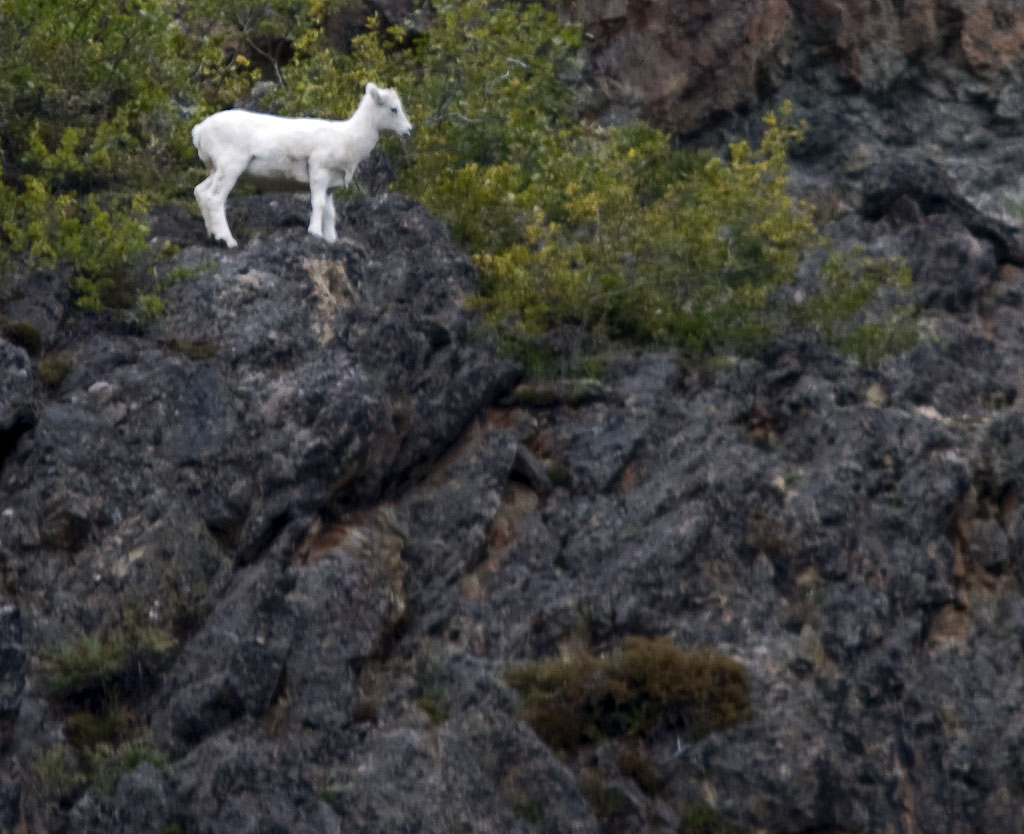 This little guy can scamper across the rock like you wouldn't believe.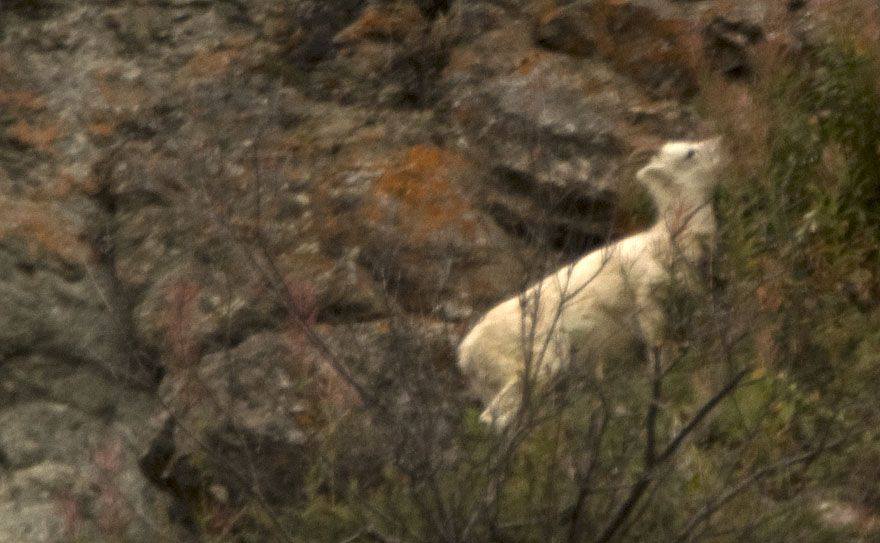 This ewe Dall Sheep is too busy eating to pay any attention to me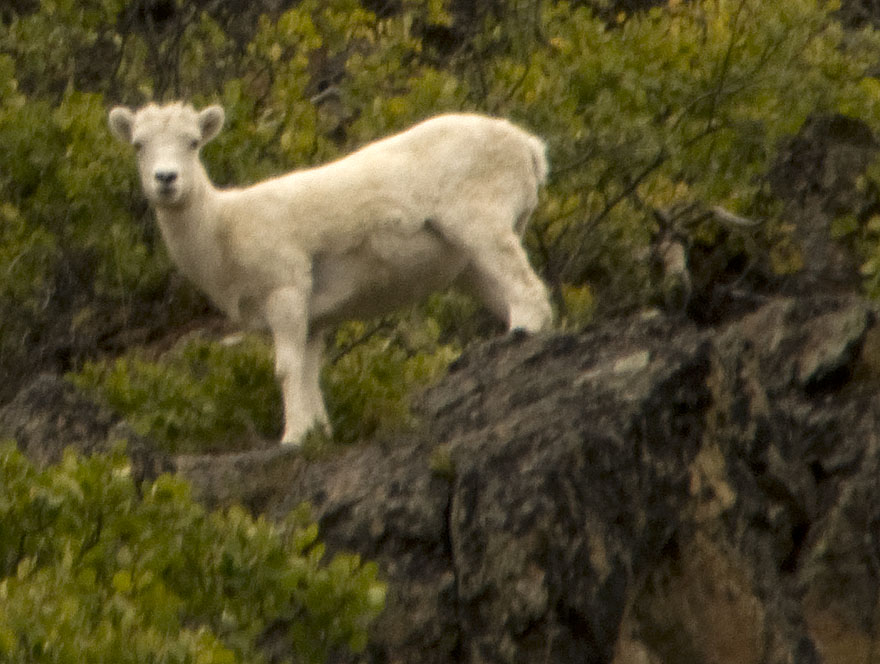 Two shots of a young Dall Sheep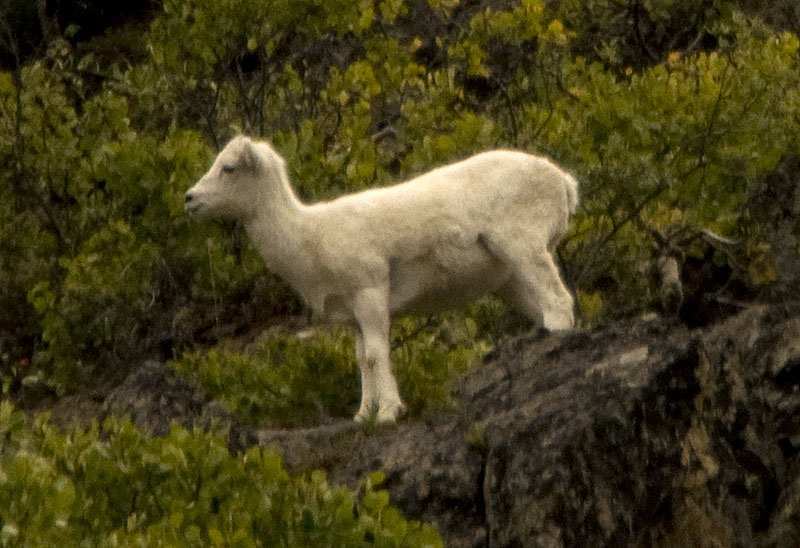 The next nine images are of the vistas along the highway . . .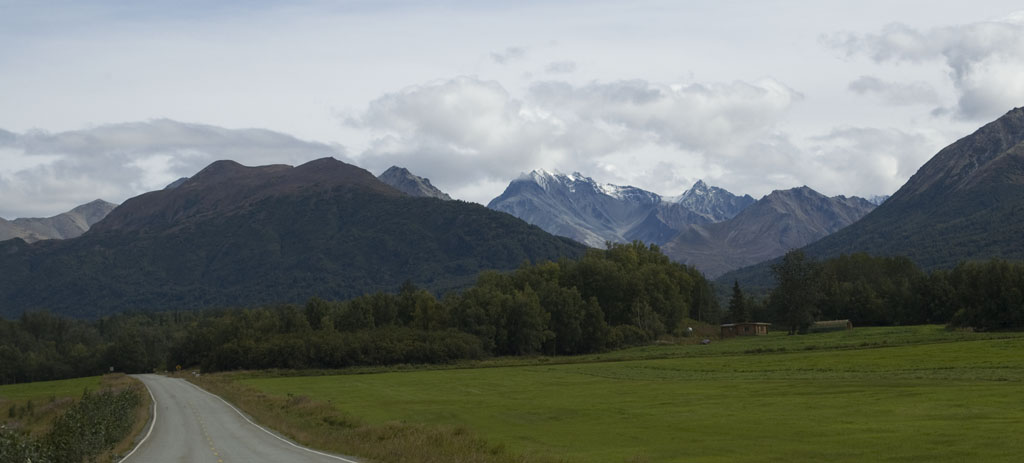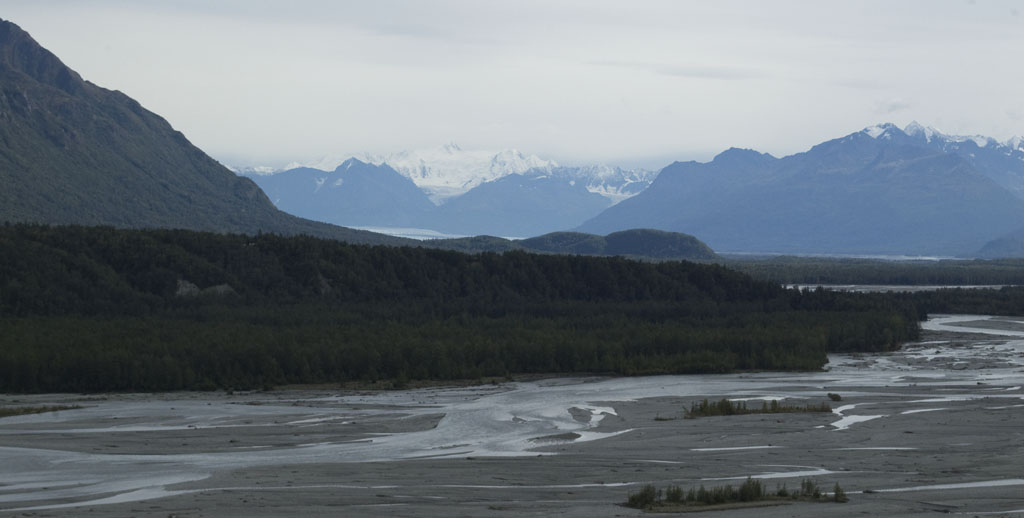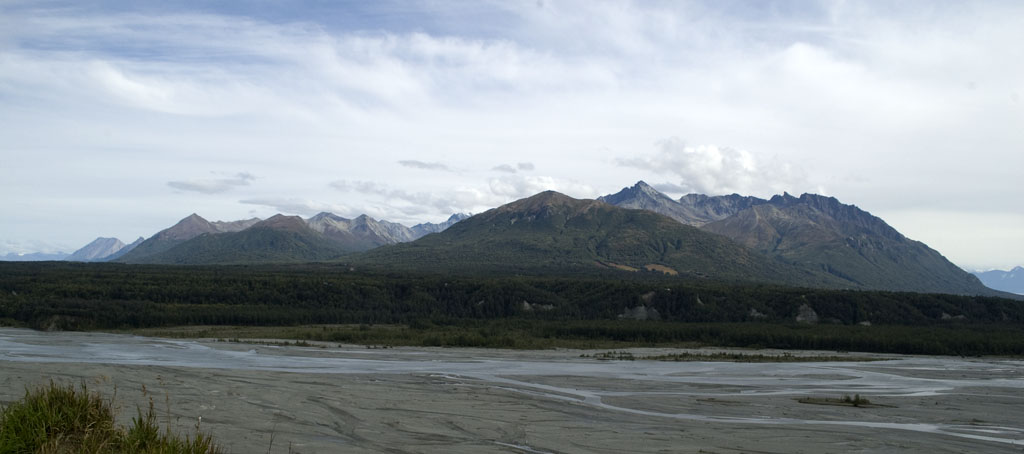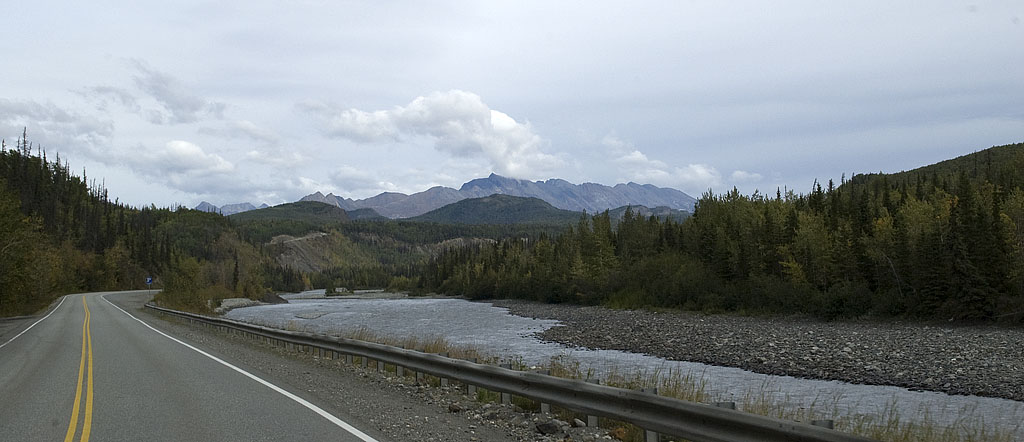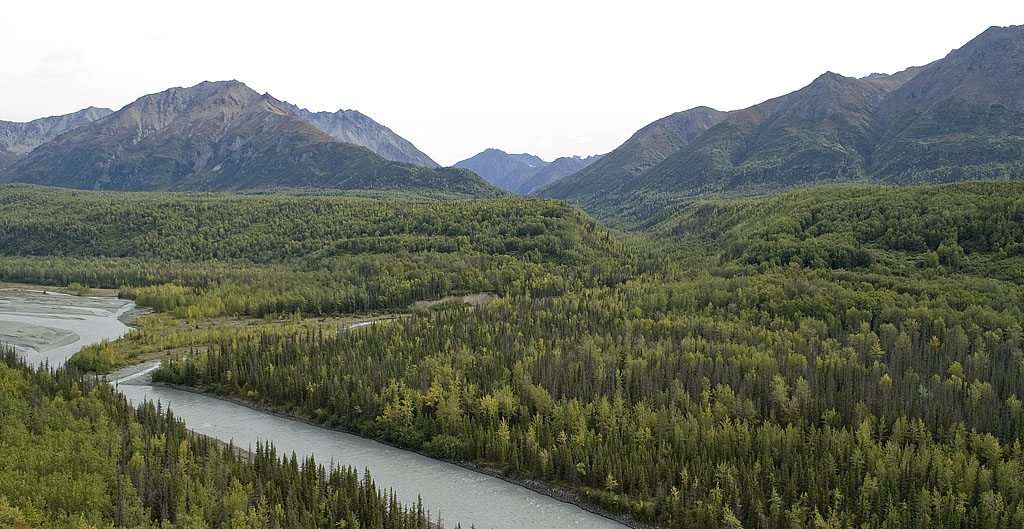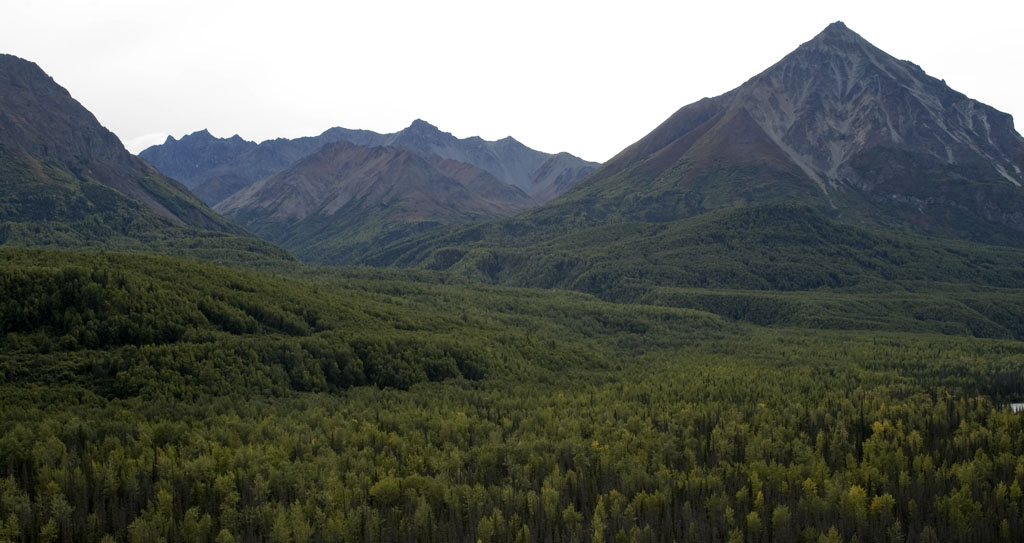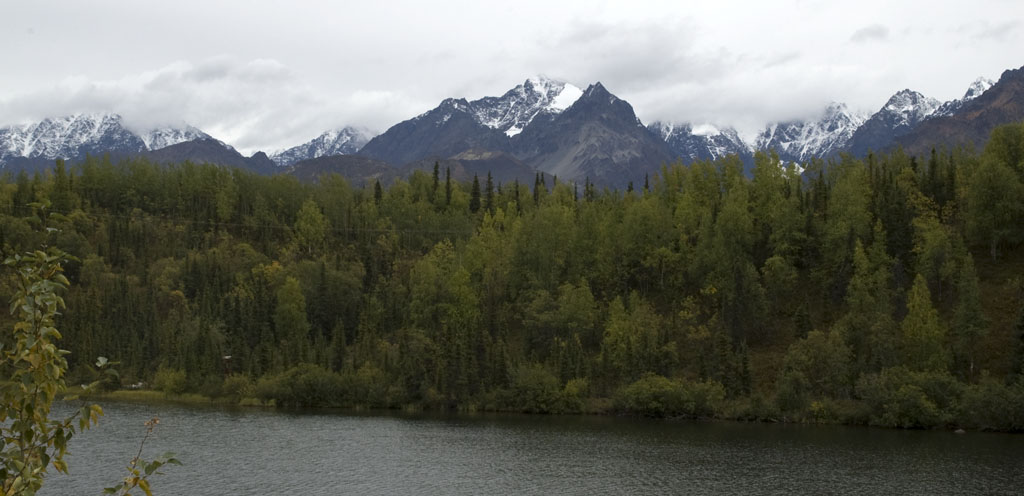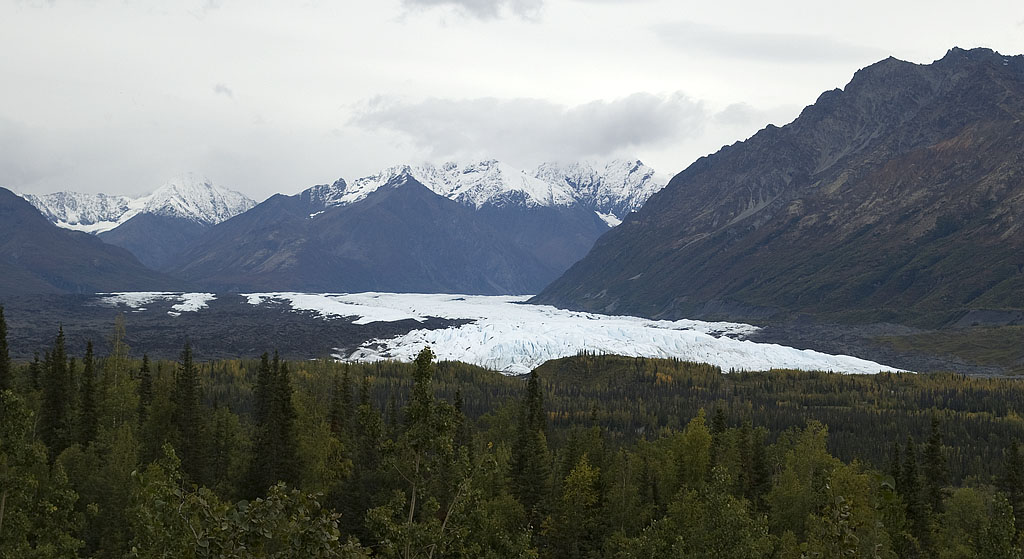 The Matanuska Glacier as seen from Matanuska Territorial Park.
We like to avoid staying at campgrounds near glaciers because the ambient temperature drops like a stone near a glacier.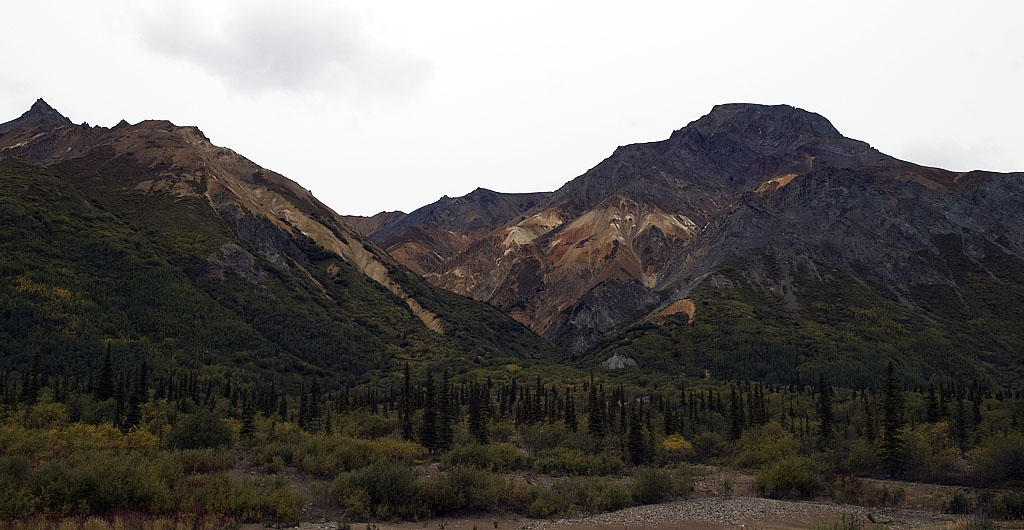 Unusual mineral deposits add color to these hillsides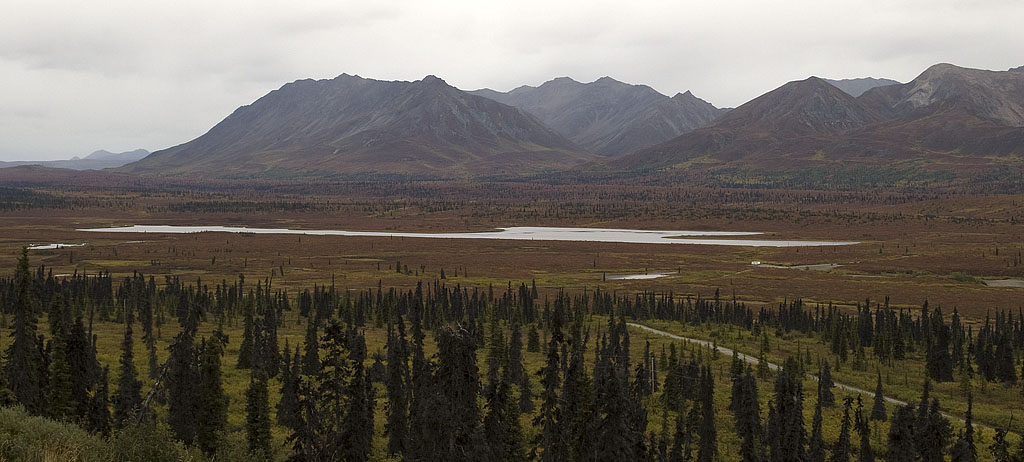 Tundra and mountains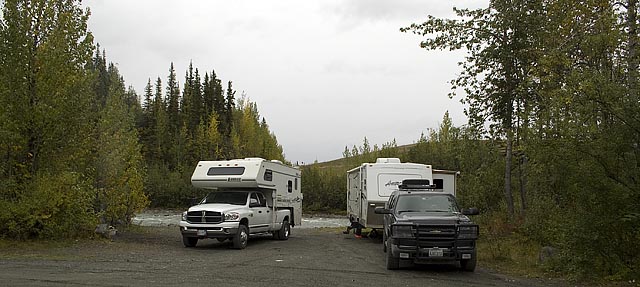 A couple of folks from Rhode Island said they made a wrong turn about 3 months ago and wound up camped here next to the Little Nilchina River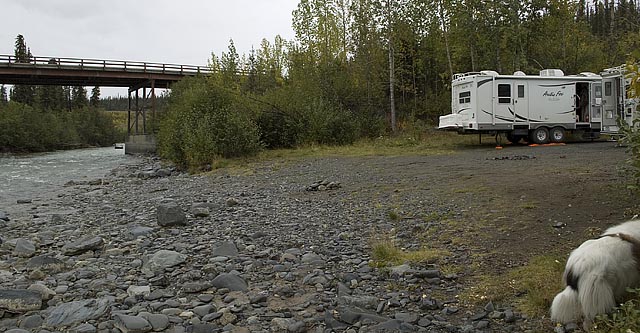 Can't camp too much closer to the river without getting wet
August 28th - Porcupine Creek SRA [top of page]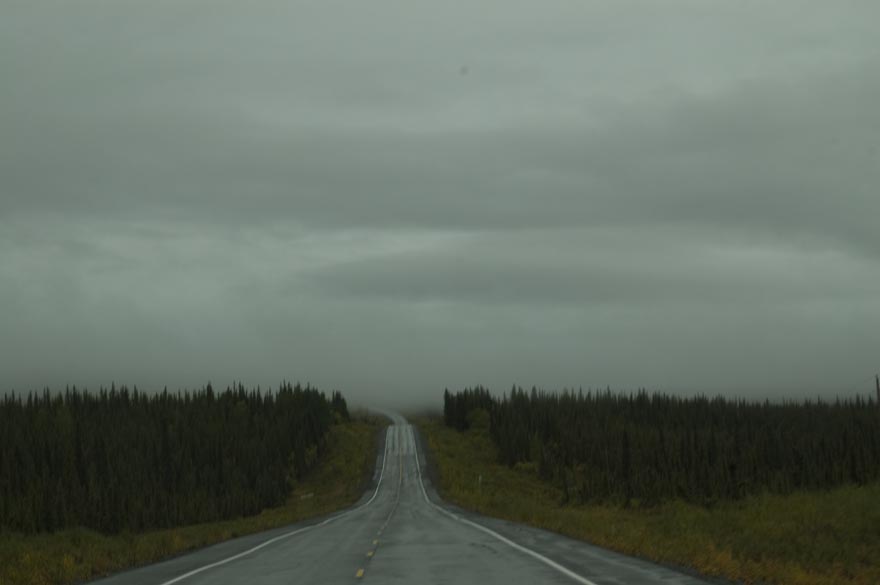 It's a dreary morning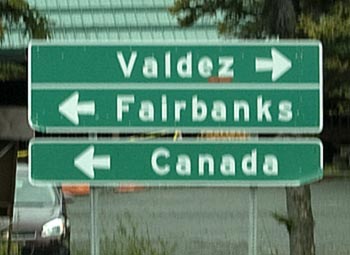 Our original plan was to turn right here and go to Valdez, but our new plan turns left for Canada

A panoramic image of the view from one of the rest areas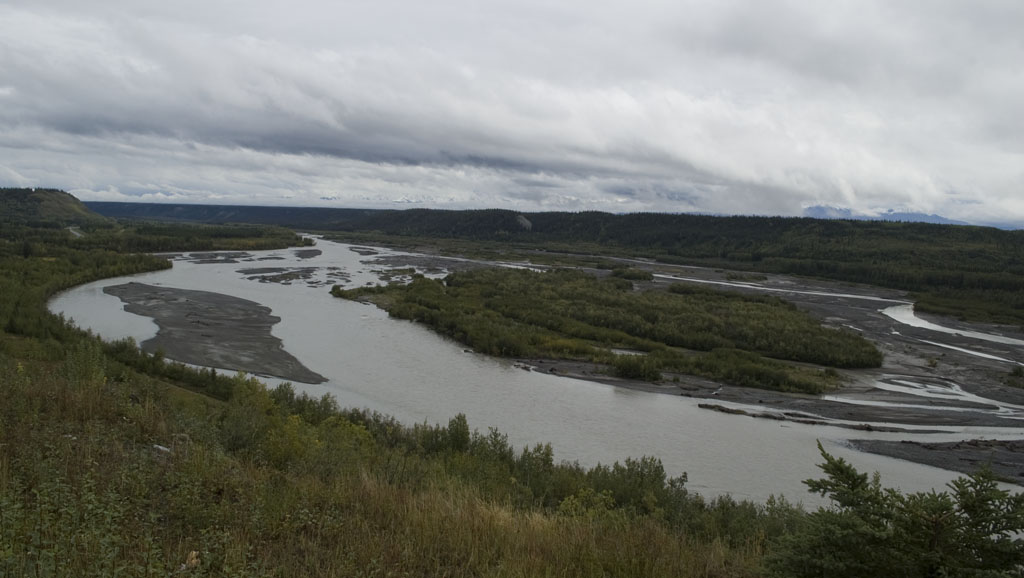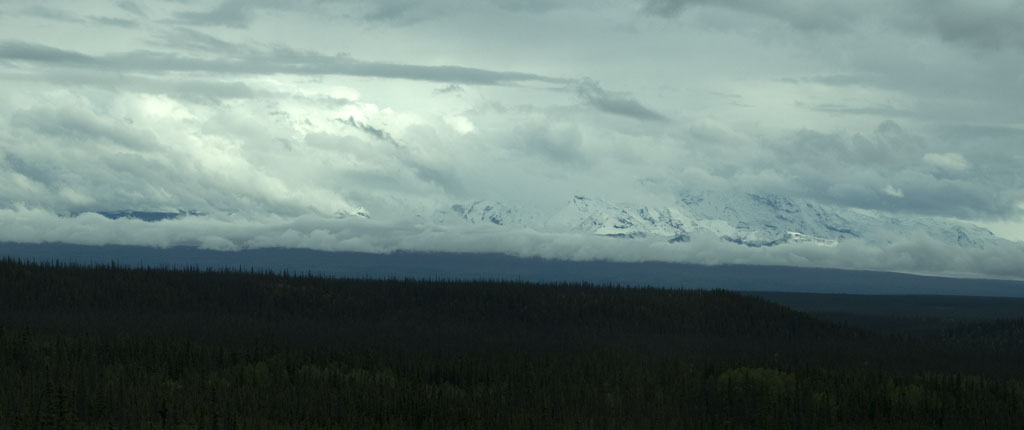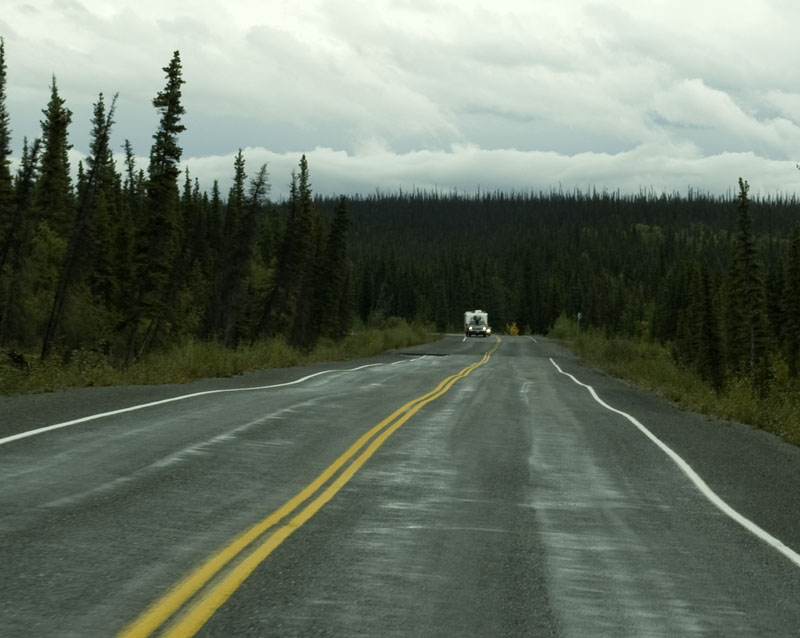 Just when we were thinking we might be done with frost heaves, we see this
And then this. Anything over 25 MPH is way too fast.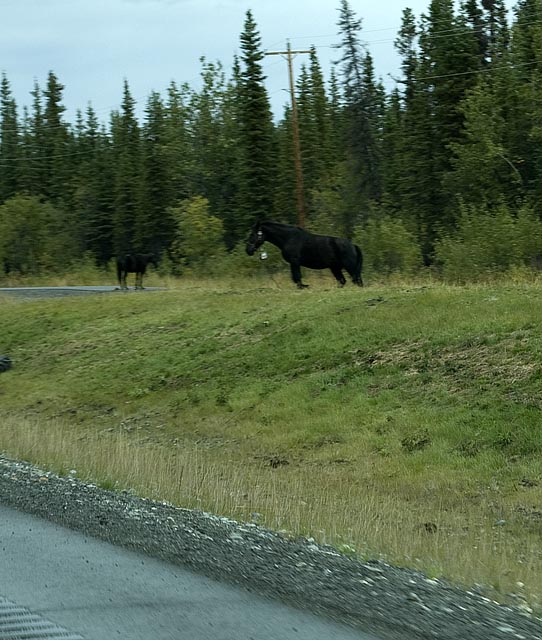 These two horses were tied up to old steel wheels in the median on the side of the road. Slightly weird.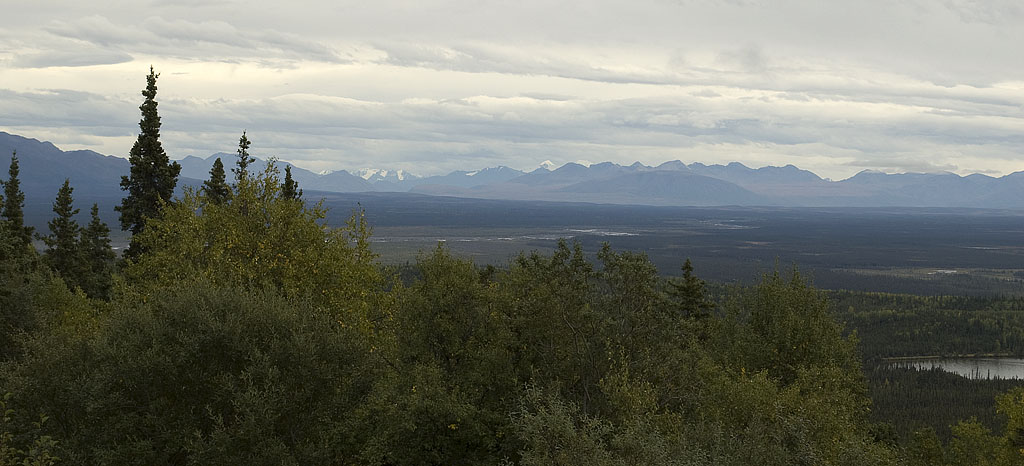 Another couple of highway vistas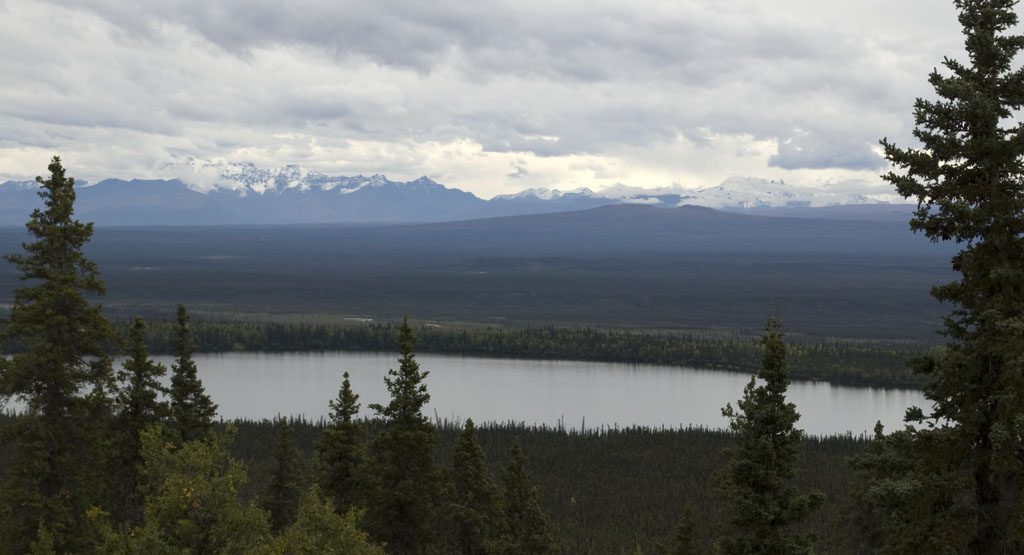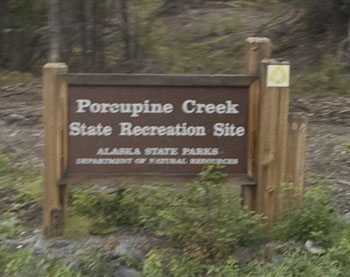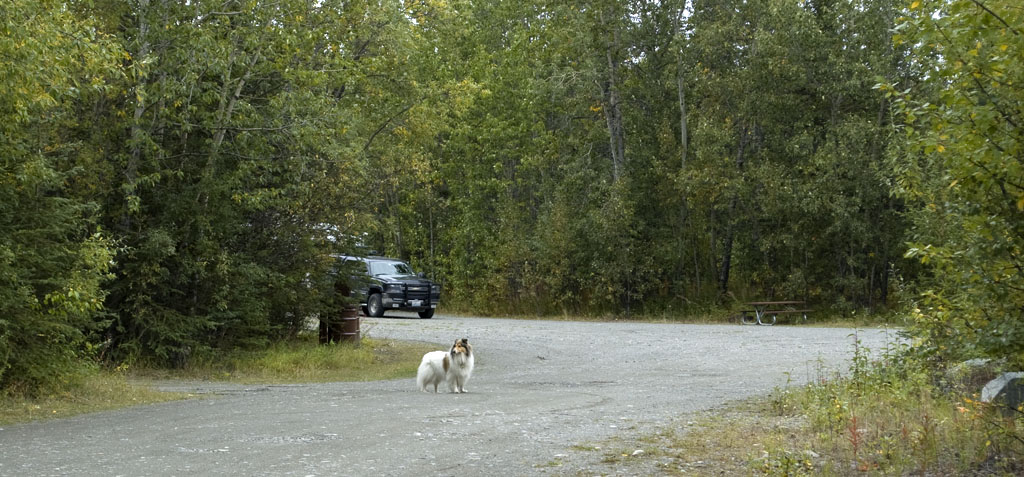 Our campsite at Porcupine Creek SRA as seen from shortly after the park entrance. As usual, Gracie likes to survey her new domain.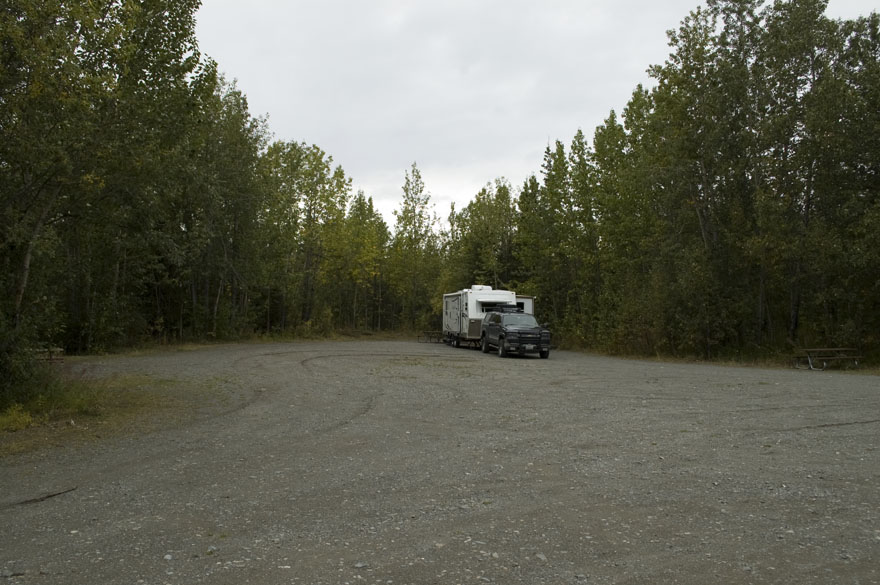 Go a few feet further & you get an idea of how huge our site is. Actually, there are three sites here, one to the right and one on the left. Porcupine Creek is just behind the rig.

Home-Sweet-Home at Porcupine Creek . The trailer looks out of whack because of the way I cropped the image--it's really quite level.
This photo gives you a good view of the large & rugged Firestone Destination LT235/85R16 LR"E" tires we put on the trailer for this trip. Turned out to be a very good thing. The Firestones came with 19/32" tread depth (17/32" usable) compared to the measly 8/32" tread depth of the OEM ST 235/85/R16 LR"E" tires. The Firestones survived with 14/32" & 10/32" on the front & rear axles, respectively. In other words, the 5/32" & 9/32" wear the Firestones experienced would have taken the front axle tires right to the edge of their wear limit while wearing 120% of the available tread on the rear axle. Since the Firestones also experienced scores of cuts on each tire, it's clear that the OEM ST tires were incapable of surviving the entire trip.
August 29th - Porcupine Creek SRA [top of page]