Yellowknife Highway "The Deh Cho route": from Yellowknife, NWT to Fort Nelson, B.C.
June 21st thru 26th
| | | | |
| --- | --- | --- | --- |
| Day # | Date | Description | Link |
| 15 | June 21st | Yellowknife, NWT to Fort Providence, NWT | |
| 16 | June 22nd | Fort Providence, NWT to Fort Simpson, NWT | |
| 17 | June 23rd | Fort Simpson, NWT to Fort Liard, NWT | |
| 18 | June 24th | Fort Liard, NWT | |
| 19 | June 25th | Fort Liard, NWT to Fort Nelson, BC | |
| 20 | June 26th | Fort Nelson, BC | |

Day # 15 - Saturday, June 21st - Yellowknife, NWT to Fort Providence, NWT [top of page]
Today marks the first of three times we have to back track on our route. That's what happens when there are destinations at the end of the road. Of course, I back track at least twice on my walks, otherwise I'd never get any exercise if I only walked as far as mom & dad.
Gracie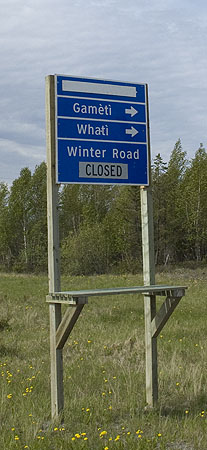 It's 122 miles to Gameti on the winter road. The folks at the Visitor Center in Yellowknife told us that the public can drive on winter roads that go to communities. But, the public is "discouraged" from driving on the privately maintained winter road to the diamond mines north of Yellowknife that were featured in the TV series "Ice Road Truckers". Dad wonders if I'd still pant if we came up here in the winter.
Gracie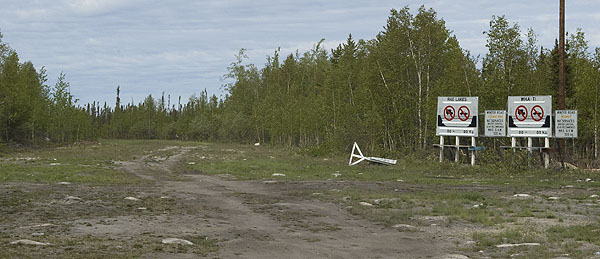 We drove a few feet of this road, but the road is chock full of big rocks and boulders, so dad had the truck in low range to go super slow to keep from bouncing the trailer sky high.
Bo'sun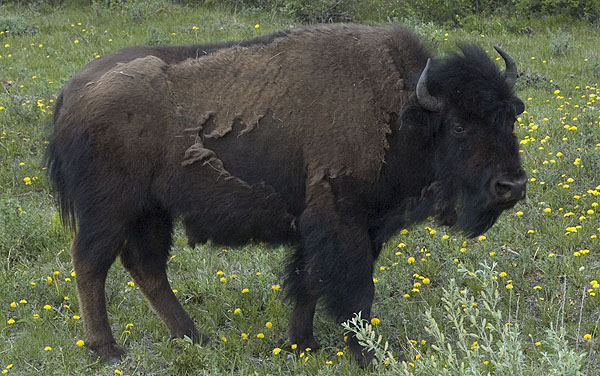 I tried to give this bison a piece of my mind, but he didn't seem to care. Mom & dad sure did, though!
Bo'sun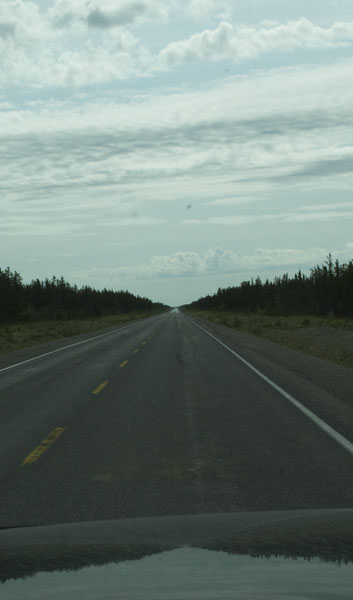 Every once in a while I come up to the front seat to make sure that dad's doing a good job of driving the truck. As much as I get bounced around in the back seat, who knew the road was this straight?
Gracie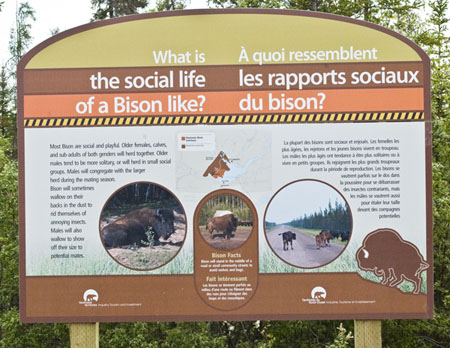 "Most bison are social and playful. Older females, calves and sub-adults of both genders will herd together. Older males tend to be more solitary, or will herd in small social groups. Males will congregate with the larger herd during the mating season. Bison will sometimes wallow on their backs in the dust to rid themselves of annoying insects. Males will also wallow to show off their size to potential mates."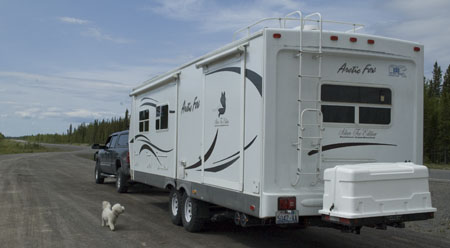 Every time we stop, I have to check over the rig and make sure everything is A-OK. This particular time, I found the front spare tire under the trailer was loose. It only took dad about 30 seconds to tighten it, but he says he wants to put another piece of steel in the carrier so it won't come loose again. He says that job will have to wait till we get to Whitehorse, though.
Bo'sun

Remember how mom fell in love with the NWT license plates? Well, the Visitor Centre had some for sale, so dad put on on the back of the trailer just so folks would know that this Arctic Fox was the real deal Arctic Fox.
Bo'sun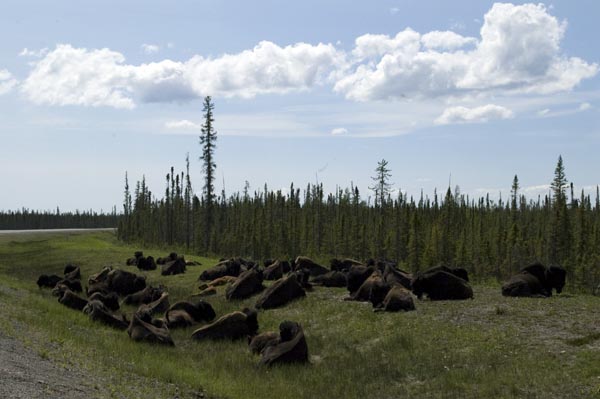 Dad talks about how when Brittany was little and they'd come to a slow down in traffic she'd say "Oh no, traffic!". Well, my whine of the day is "Oh no, more buffalo!"
Gracie
This momma buffalo was licking her kid's face. Ain't that just too cute?
Bo'sun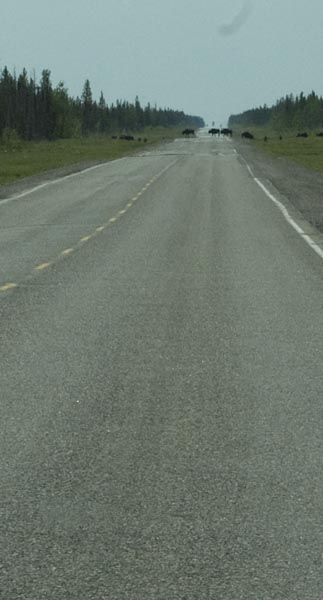 More buffalo ahead. Dad says the books on the highway warn drivers to not stop their cars face-to-face with a buffalo. I guess their a bit temperamental and they might charge the car. that's probably pretty scary if you're in a car, but I'd think the buffalo would get a headache if he butted that big steel 'Rancher' grill guard on the truck.
Gracie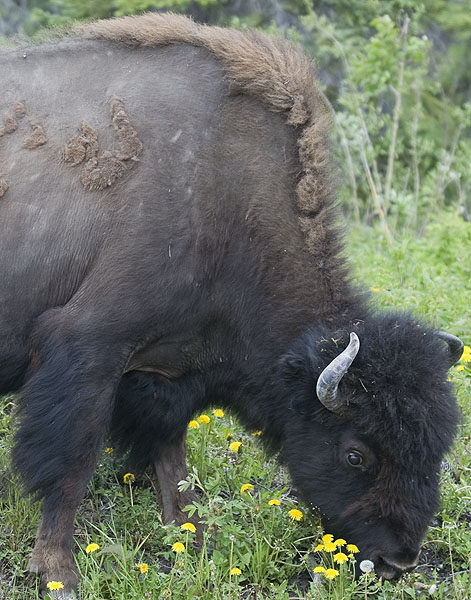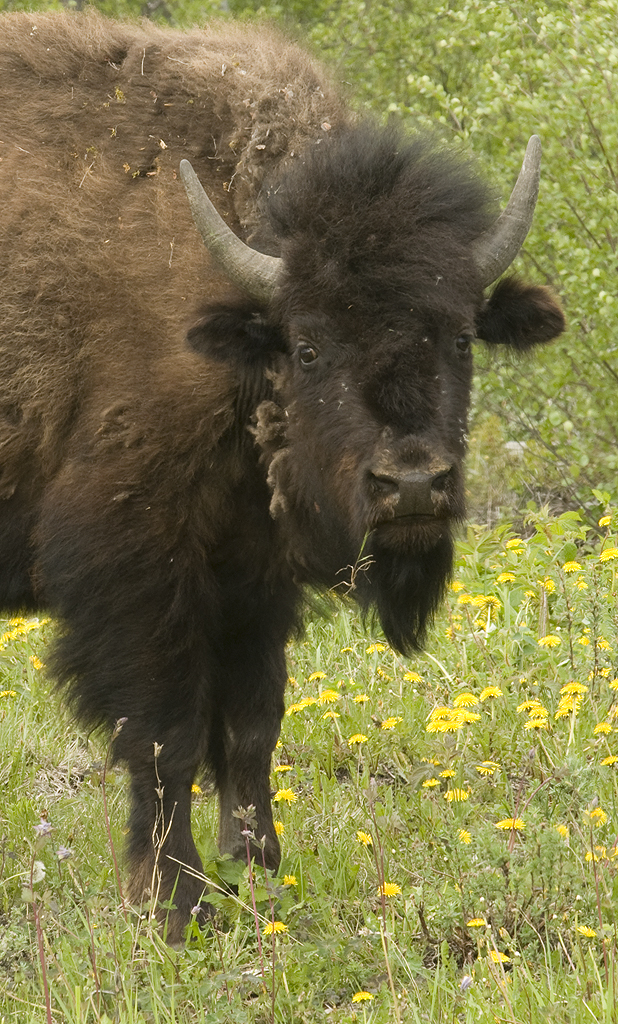 This is the bison look for 'Huh?' Such a big head and such a small brain!
Bo'sun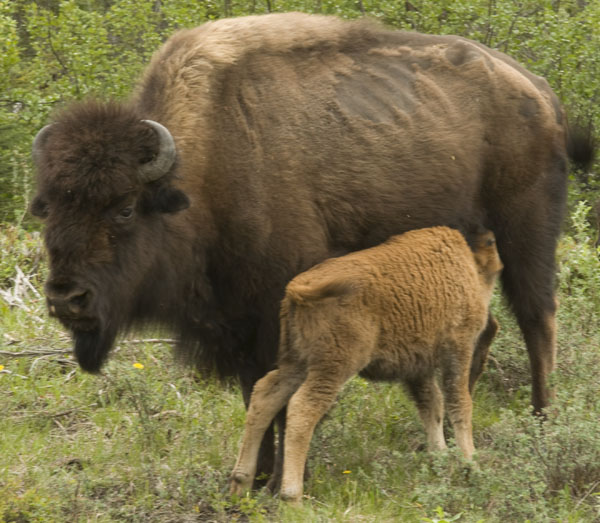 Momma bison and the kid butted and kicked each other for a bit before the kid got what he wanted.
Gracie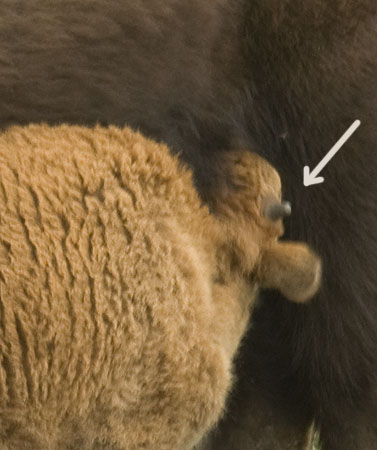 After we noticed the horns on the kid, I don't blame momma bison for shoving the kid around a bit. Sure glad that dogs don't have horns-those little teeth are bad enough!
Gracie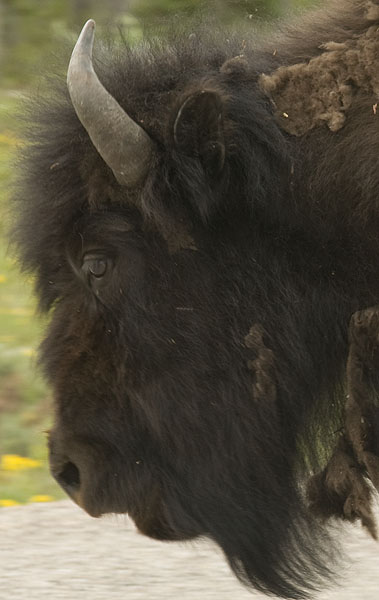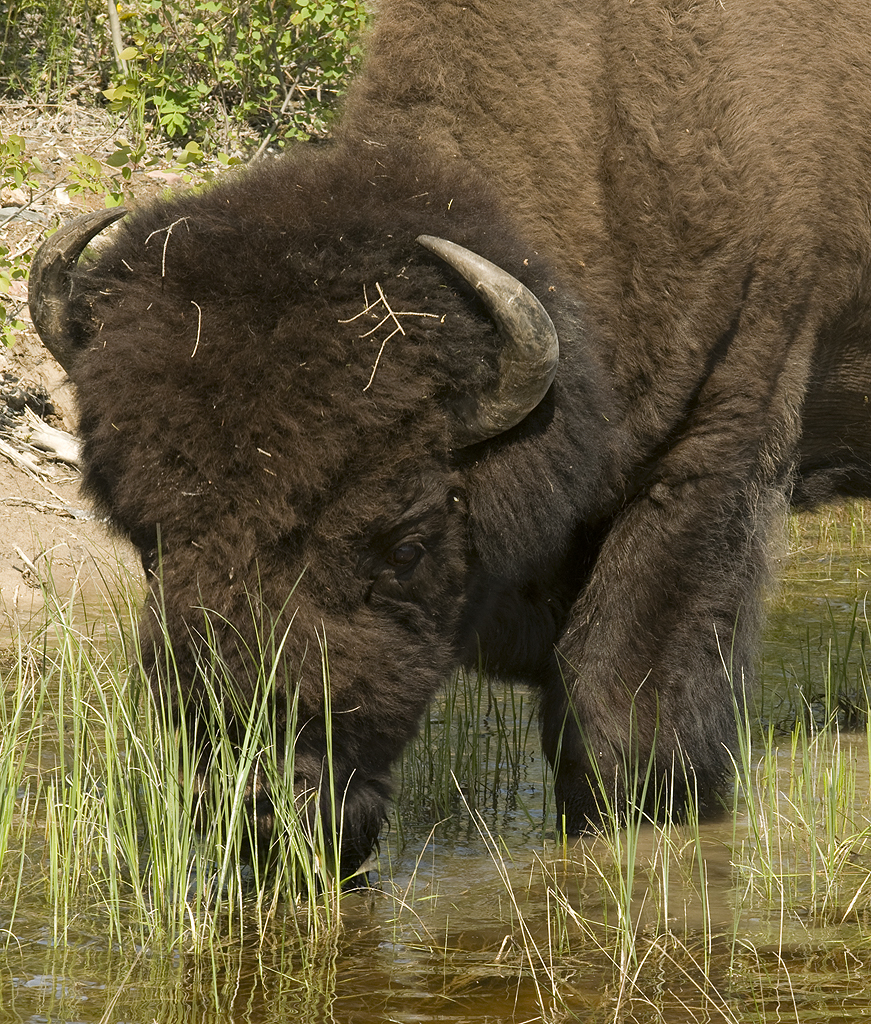 This big guy was keeping his feet cool in a flooded area next to the road. Dad stopped the rig so the rear end of the trailer was right next to him, so dad snuck around the back of the trailer and was only about 10-15 feet away when he took this photo. I can just picture dad climbing the ladder on the back of the trailer real fast if he'd objected to having his photo taken. :-) Instead, he turned around and faced the other way. Bison butts are not particularly photogenic!
Bo'sun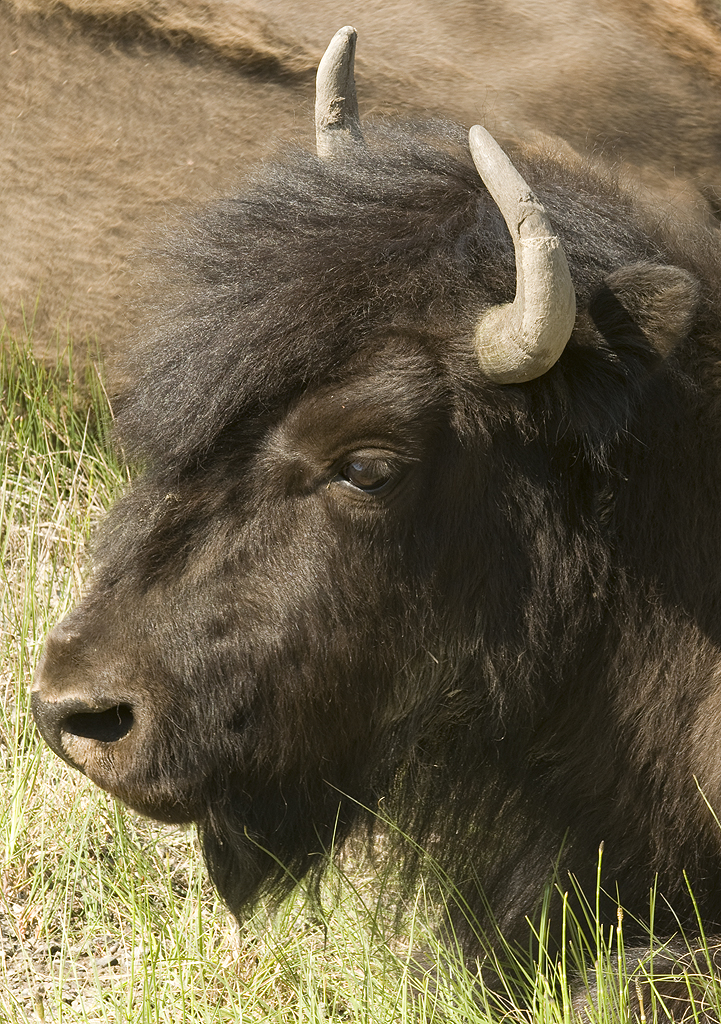 Did you notice how almost all of these bison seem to be staring off into space and hardly ever make eye contact? I'm just a little guy and I'm not afraid to make eye contact; what are these big guys afraid of?
Bo'sun
Day # 16 - Sunday, June 22nd - Fort Providence to Fort Simpson, NWT [top of page]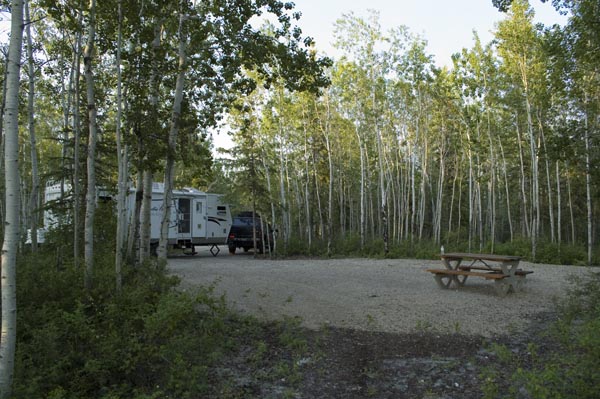 Our campsite at Fort Providence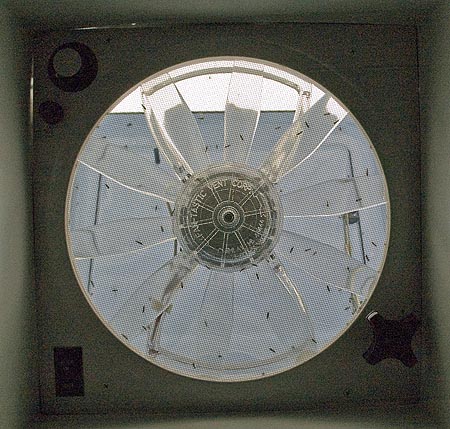 Mosquitoes looking for a way into the trailer via one of the three ceiling fan vents.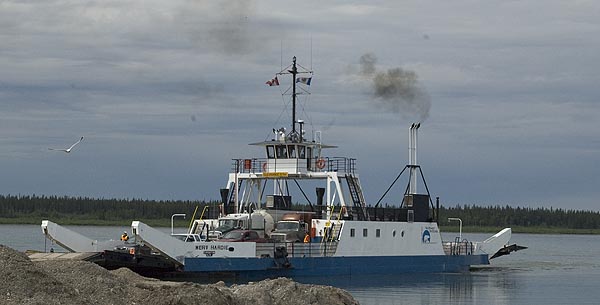 The Fort Providence ferry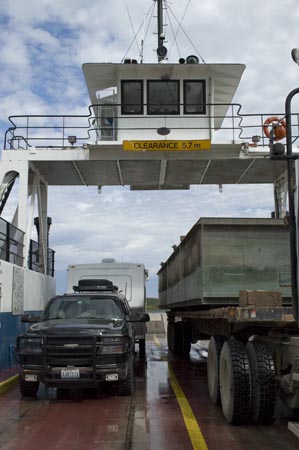 We're onboard the Fort Providence ferry next to an oversized load.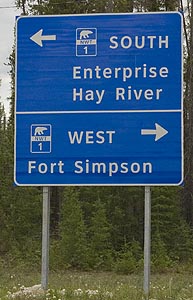 Here's where we turn right and head for Fort Nelson, BC and the Alaska Highway instead of continuing to back track.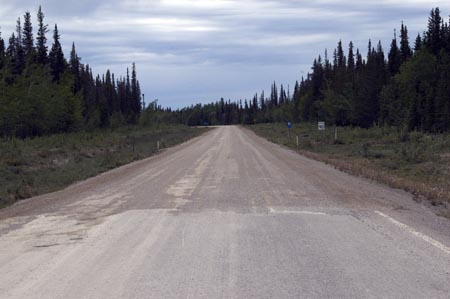 The end of the paved road comes very shortly after turning onto Highway 1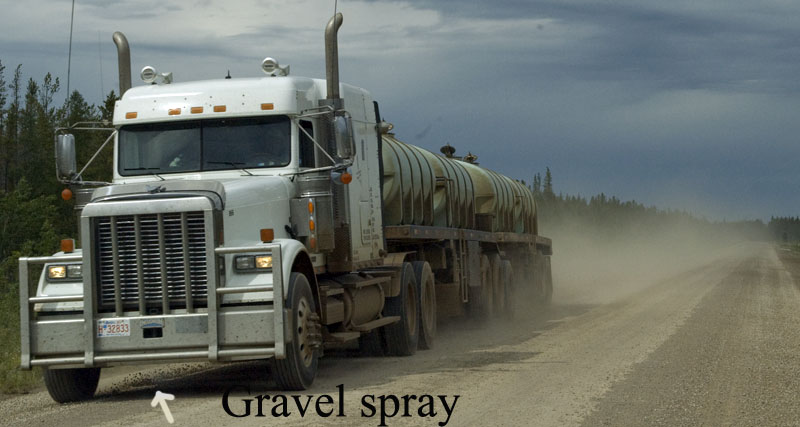 This truck pelted us with gravel. You can see the gravel from the front tire with its relatively innocent highway tread. Imagine how much is kicked up by all of those other tires and their aggressive traction tread.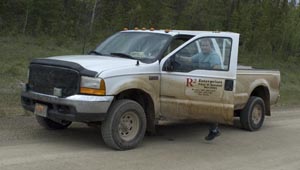 A guy and his son in his broken down Ford truck.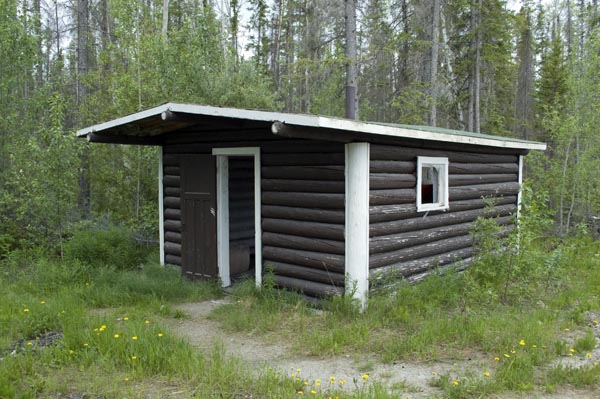 You know you're in a remote area when the rest stops have survival cabins. Here's an example. Stark, but it could be Home Sweet Home.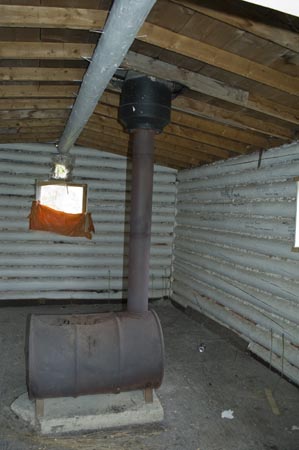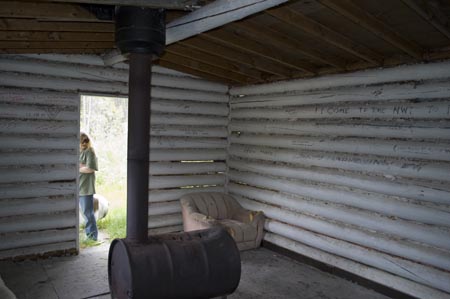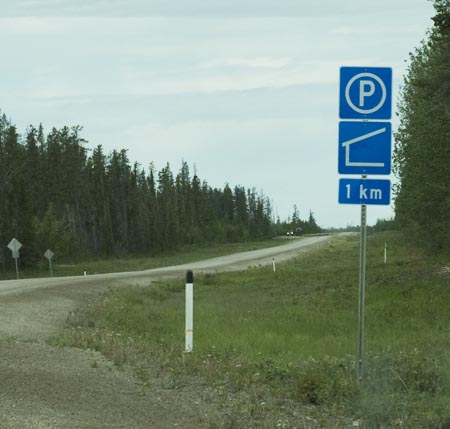 Rest areas with survival cabins have this type of sign

Here we are at a rest area with another survival cabin in the background. This is where I disable the backup alarm for the trailer hitch.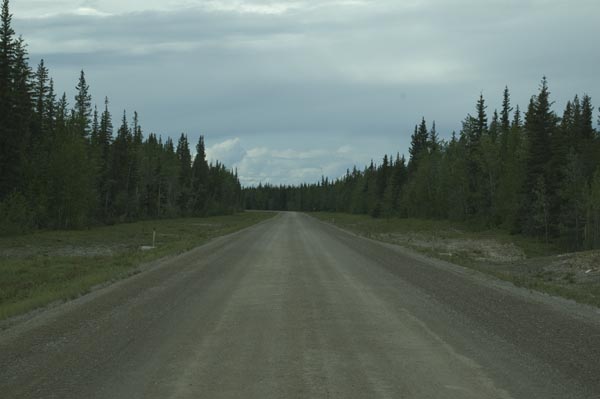 Highway 1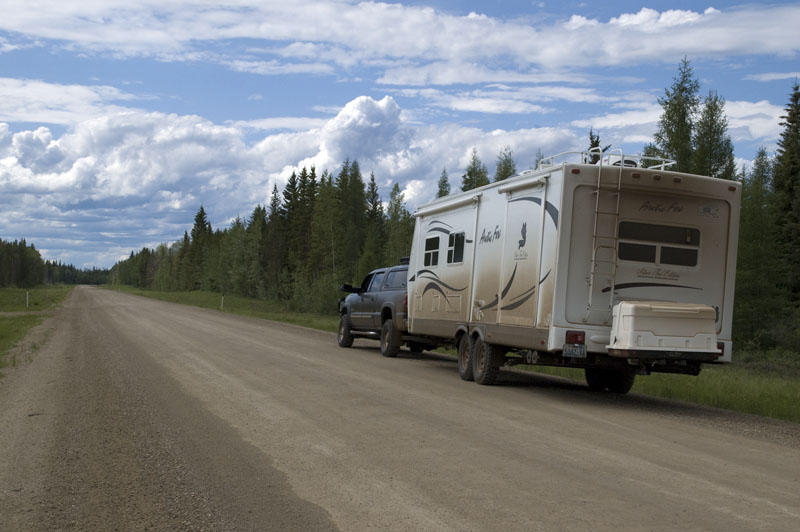 We're stopped on the side of the highway. Starting to show the accumulation of dust & dirt on the rig.

The 'plan' was to spend the night at Sambaa Deh Falls Park, but we decided to just have lunch and press on.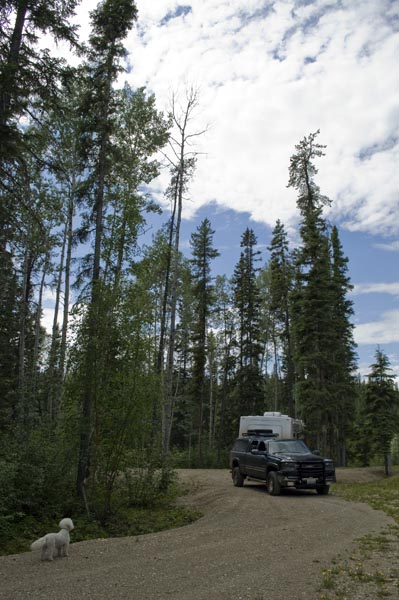 Bo'sun inspects our site at Sambaa Deh Falls Park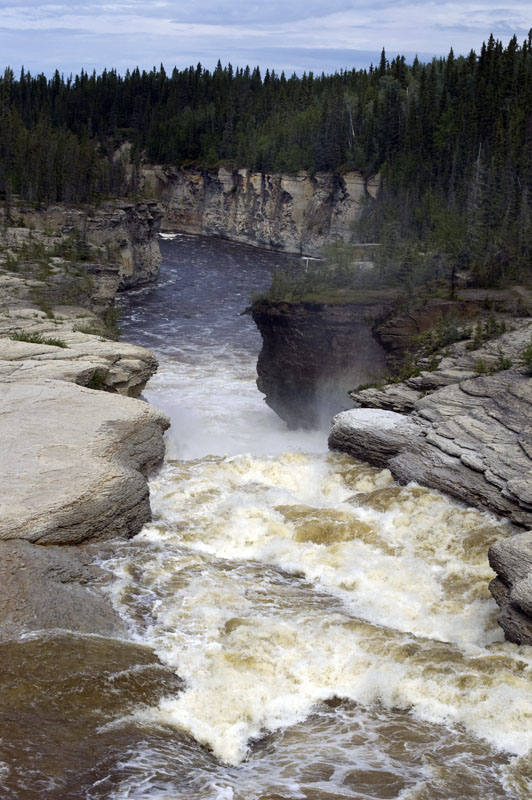 The Sambaa Deh Falls as seen from the highway bridge over the river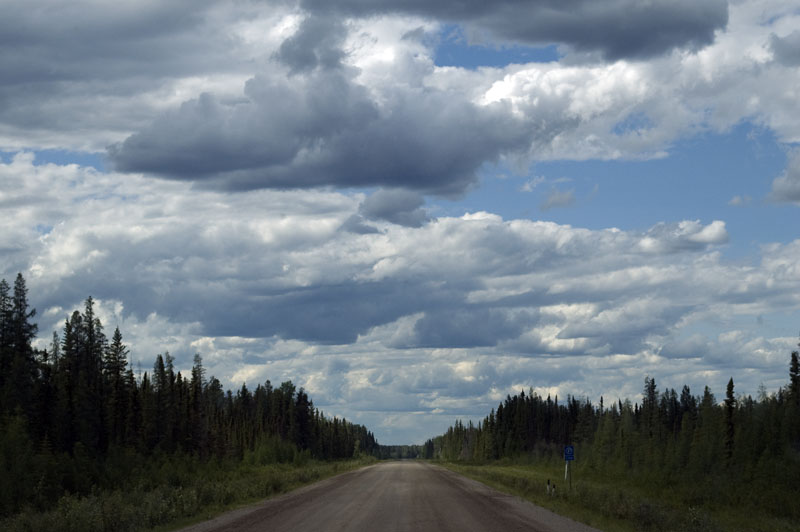 The sky looks like this seemingly forever. Gorgeous.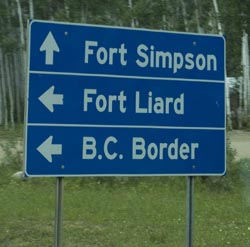 We might as well take the road to Fort Simpson since we're so close. Fort Liard can wait another day for us.
The road to Fort Simpson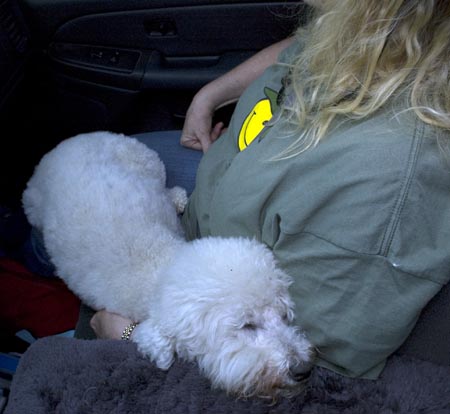 Bo'sun has had his daily quota of gravel roads and takes a nap in CJ's lap

Another survival cabin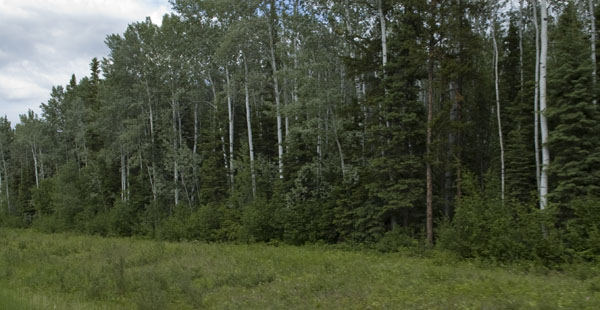 The forest is sooo diverse.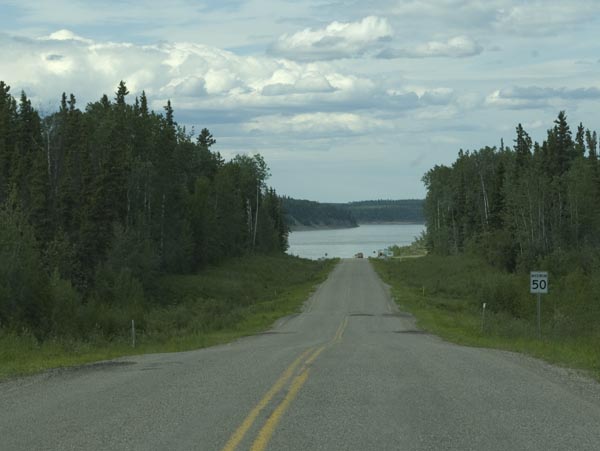 Ferry ahead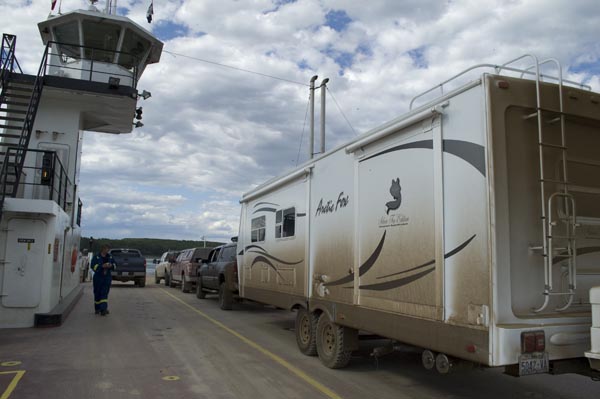 Loaded on the ferry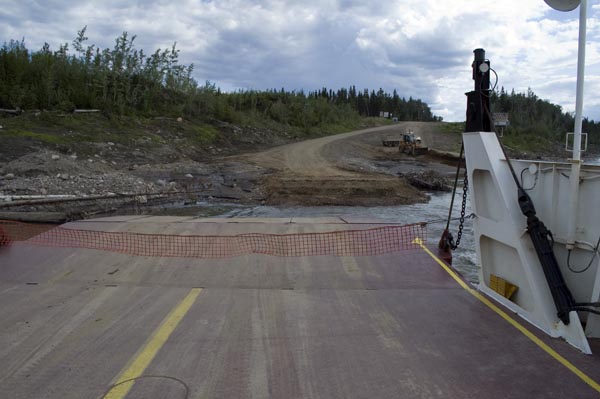 Looking back at the dirt approach/landing instead of the usual ferry docks and landings we have in Puget Sound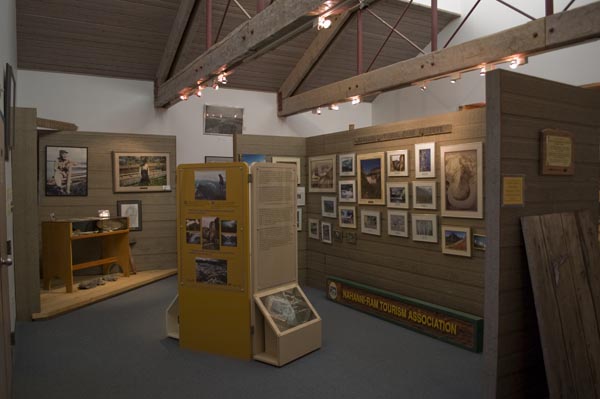 The visitor centers in the Northwest Territories are incredibly nice, especially when you consider that they only get 1-2 visitors a day.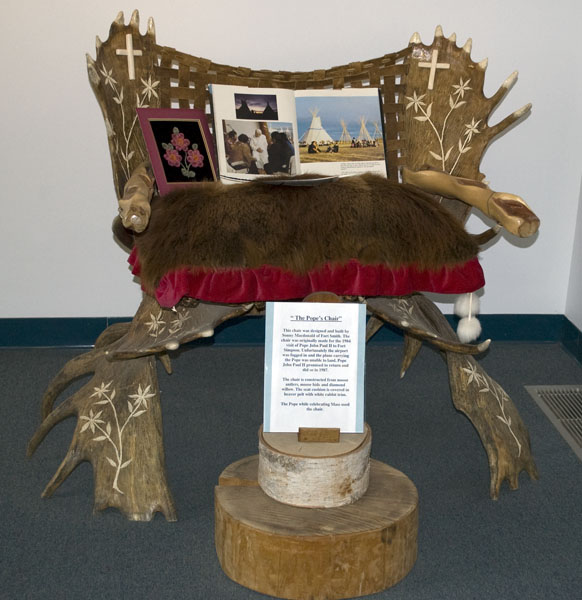 The Pope's Chair at the Fort Simpson Visitor Center from when he visited Fort Simpson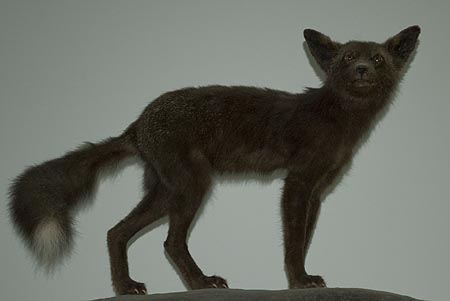 A fox on display at the Visitor Center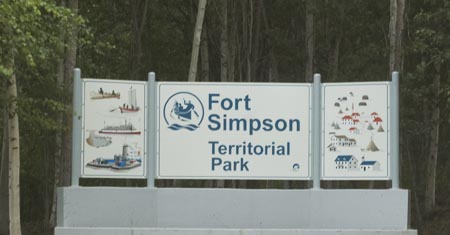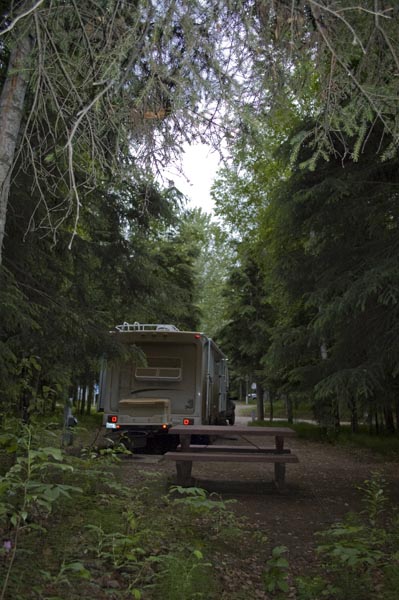 Our campsite at Fort Simpson Territorial Park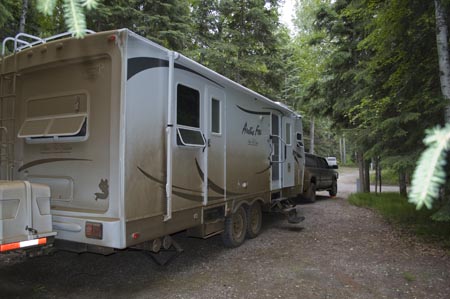 Another view of the site - and the dirty rig. The Arctic Fox name at the top of the rear cap is invisible.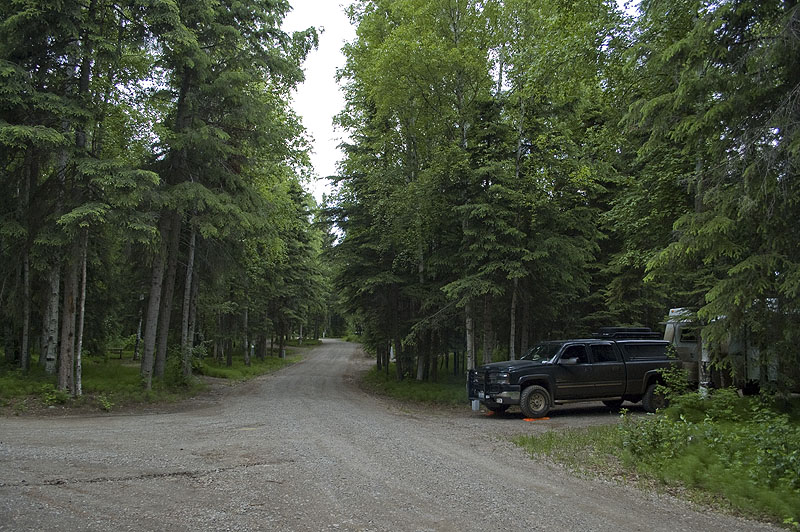 Another view of Fort Simpson Territorial Park and our campsite.
Day # 17 - Monday, June 23rd - Fort Liard [top of page]

This beaver swam by our campsite three times during our stay.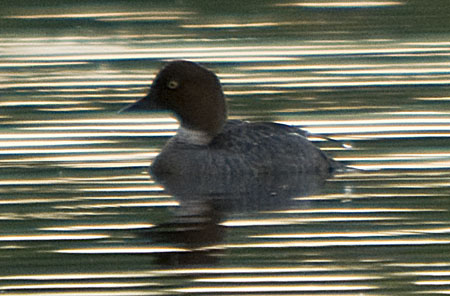 Two photos of a Common Golden Eye duck. He was diving for dinner about 100 yards away.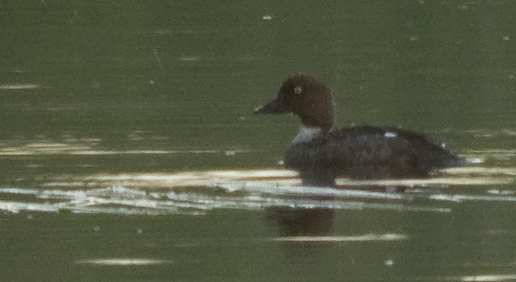 Day # 18- Tuesday, June 24rd, Fort Simpson to Fort Liard, NWT [top of page]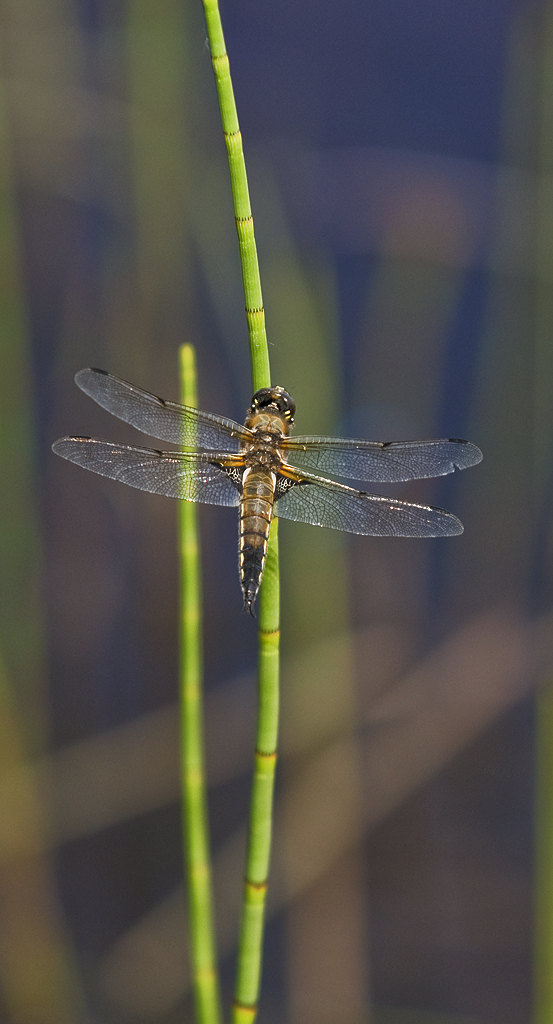 One of the larger dragon flies lands on a reed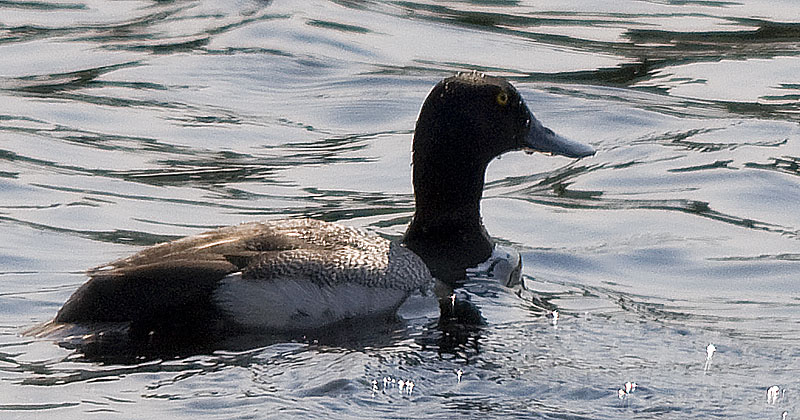 The Common Golden Eye duck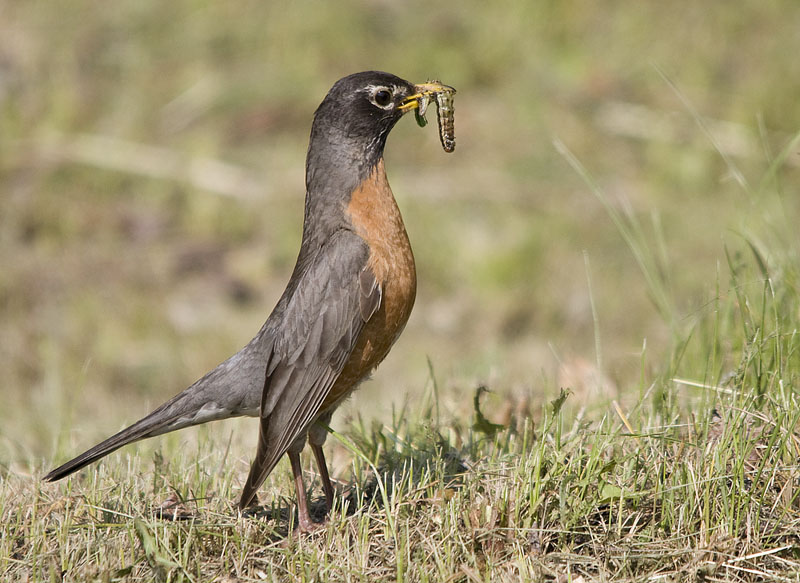 One very precocious American Robin was very proud of the grub he caught.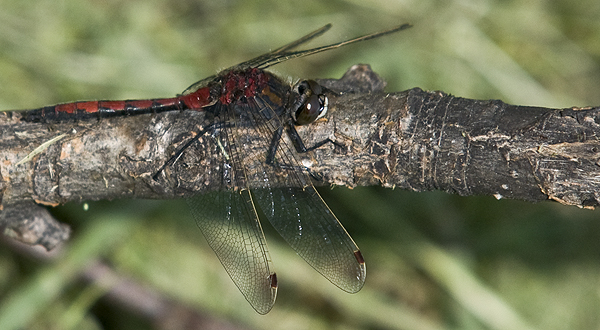 Another one of the larger dragon flies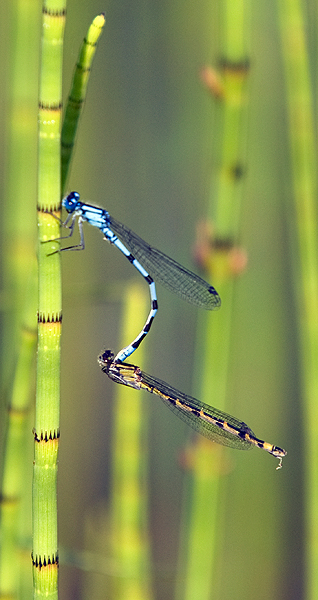 A pair of the smaller variety of dragonflies mating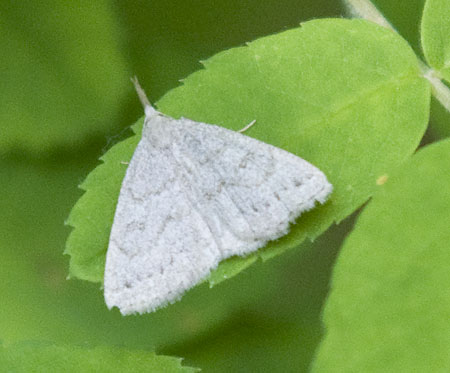 A moth in the forest behind our campsite
Day # 19 - Thursday, June 25th - Fort Liard, NWT to Fort Nelson, BC [top of page]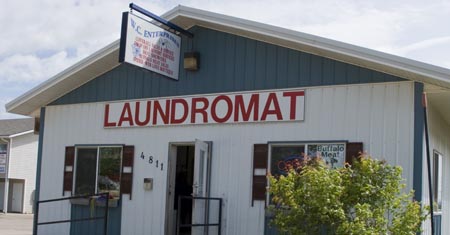 The first thing we did in Fort Nelson was stop at the local Laundromat and get started on a couple of weeks of laundry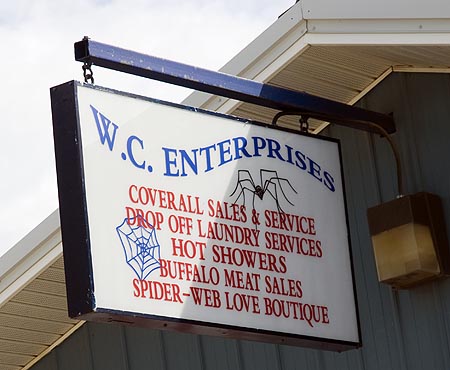 Note the close-up of the sign at the Laundromat. Interesting place to do your laundry.
Day # 20 - Friday, June 26th - Fort Nelson, BC [top of page]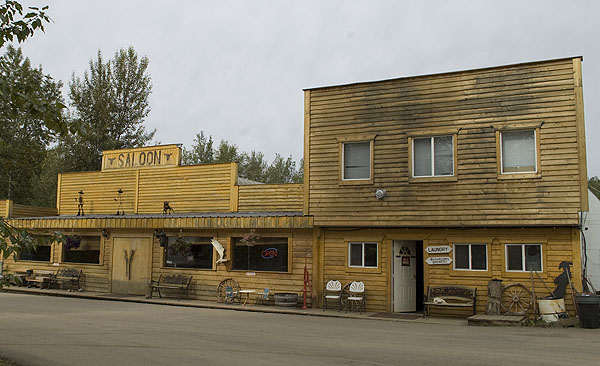 The Saloon & laundry at Westend Campground. I took this photo from our campsite just across the driveway. The location made for an interesting stay.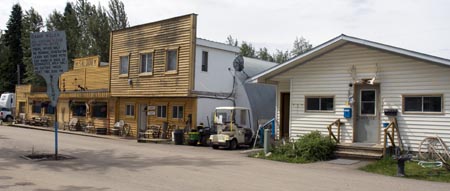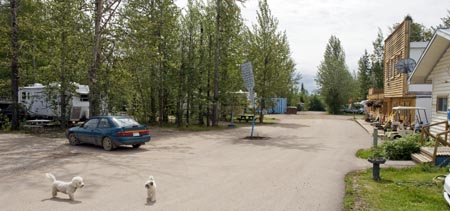 These two photos show the whole scene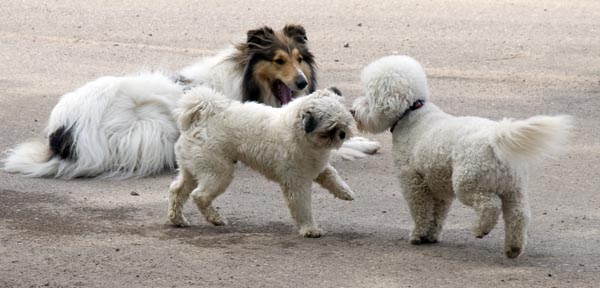 Bo'sun & the RV park owner's dog have a little dance in the driveway between our campsite and the office.